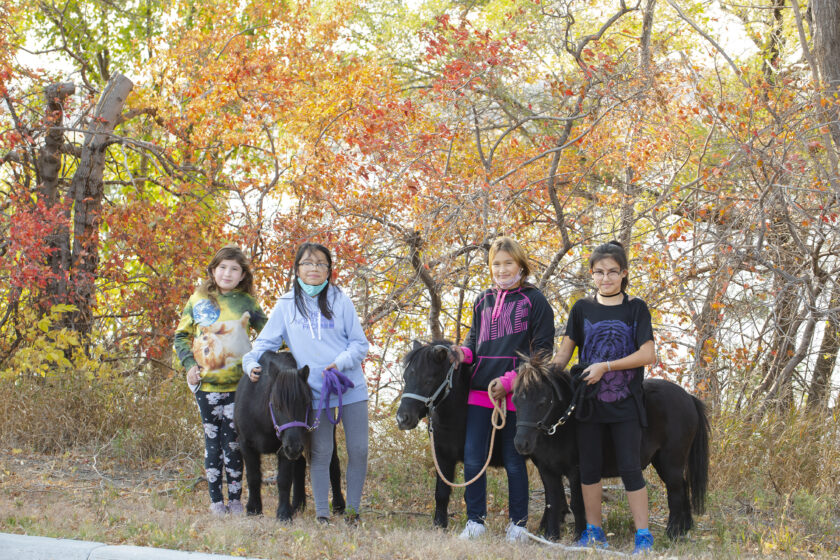 Perhaps you don't spend your day rolling around in the dirt, eating a bucket of oats or providing therapy to young students — but doesn't that sound great!
It's the life of the equine therapy horses who are lucky to spend their days doing all of this and more! St. Joseph's is home to seven horses — three regular sized and four mini horses! According to Patty, the Equine Therapy Specialist, each is a very sweet šúŋkawakȟán — horse.
To give you a glimpse into the life of these beloved members of campus, we thought we'd share some "Day in the Life" details with you about three of the main stars of our equine therapy program: Sox, Pony Boy and Cochee.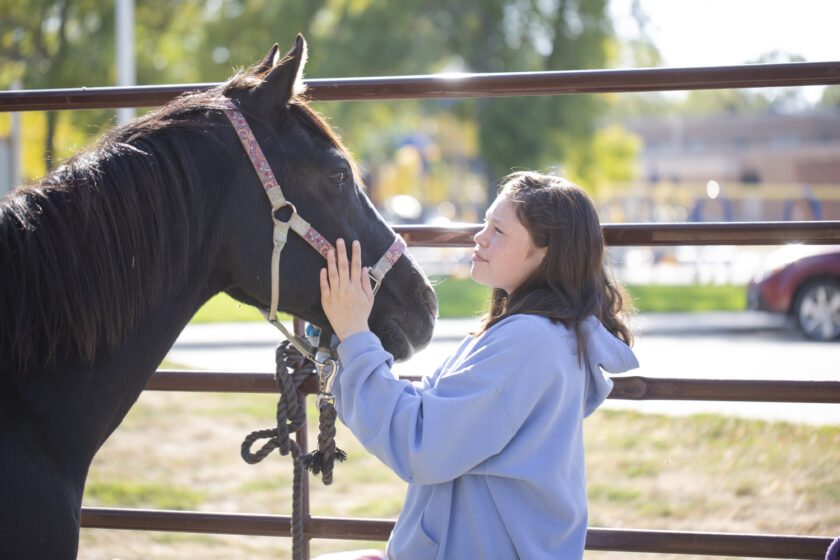 Sox
Sox is a black gelding with white socks and a white blaze strip on his face. He was born in 2000 and is a wonderful horse.
Patty says, "You can ask him to complete any task and he will do just that!"
His background comes from racing and he has a heart of a champion. In 2019 at the age of 20, he retired from the rodeo and relay spotlight. In his career as a barrel racer he did very well.
His strength and speed might lead you to believe he's a rough and tumble horse, but he's actually very gentle and a favorite among the children at St. Joseph's.
"His heart is as big as they come, and he is very much loved by all who meet him," said Patty.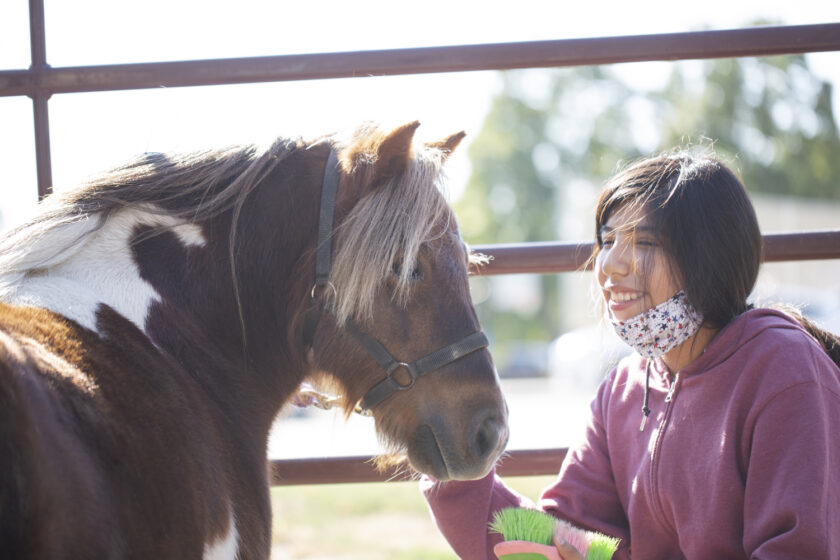 Pony Boy
The "unofficial poster child of St. Joseph's," Pony Boy is a 12-year-old gelded Paint miniature pony. He is a saddle horse and can also be used to pull a cart. Although he might be small in stature, he makes up for it with his giant heart and is quite possibly the greatest asset to the St. Joseph's equine therapy program, says Patty.
"He can light up any face he meets and he is so gentle. He can work with anyone," said Patty.
Fun Fact: Although they might look like an unlikely pair, this mini pony and Sox are the best of friends and are always — always — together.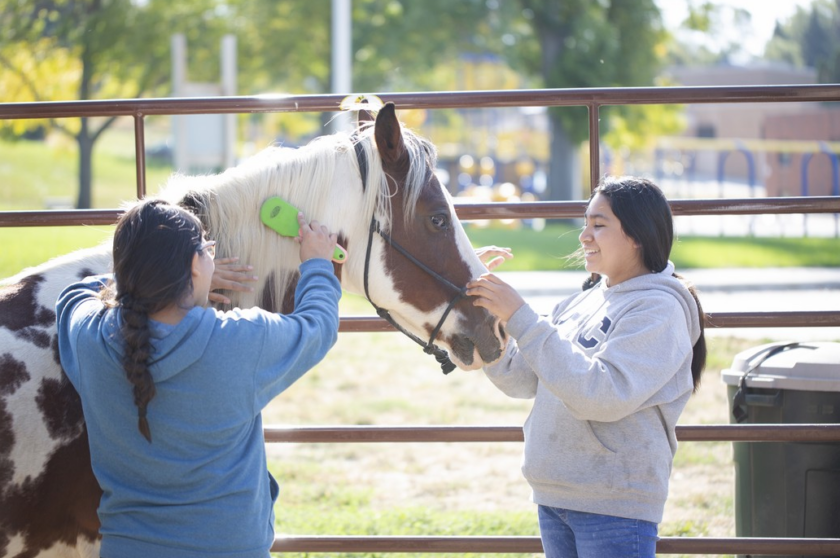 Cochee
Cochee is an 11-year-old Paint gelding horse. He was originally trained for calf roping, but it was said he was not fast enough. When Patty started working with Cochee, he wanted nothing to do with adults. He was very hard to catch and had trust issues. However, little by little he started coming around — partially with the help of treats.
Students at St. Joseph's might come to school with some of the same issues to overcome as Cochee. He is wonderful at reading body language and helping students work through these obstacles.
"He has a kind heart," said Patty. "He is sharp to understand his surroundings, which aids him well as being a good therapy horse."
Cochee has a heart of gold and since he has been at St. Joseph's he has never missed a beat.
"It was like this was the place he knew he needed to be," said Patty.
So, what do these wonderful horses do all day?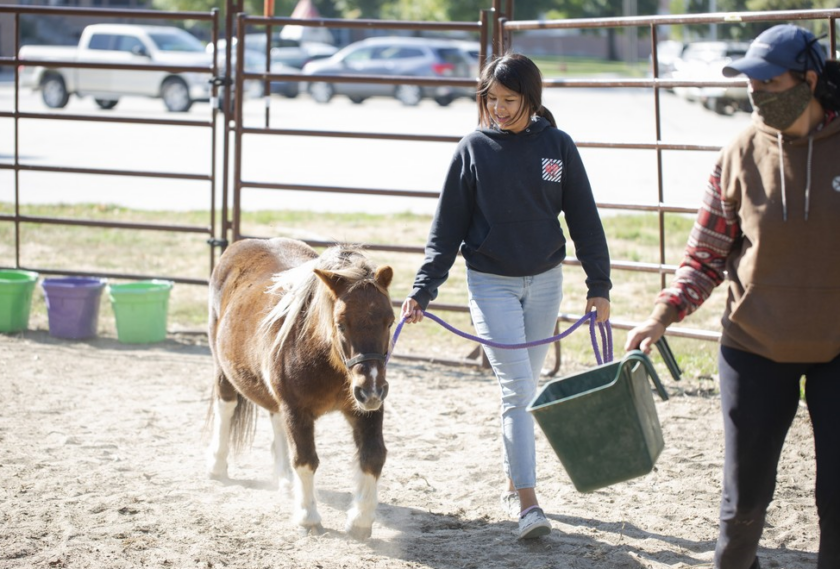 9 a.m.
Their days begin in the round pen located close to the school and playground. They shake off any sleepiness with a breakfast mixture of rolled and softened oats. The sounds of chomping and crunching continues for about 30 minutes as they enjoy every bit.
Another Fun Fact: Sox and Pony Boy eat from the same pail. These buddies really do like to do everything together!
9:30 a.m.
Bath time! But, not a bath including water, soap and suds. No, these three horses take a dirt bath by rolling around the pen. They have such a good time snorting and rolling around — it's fun to watch!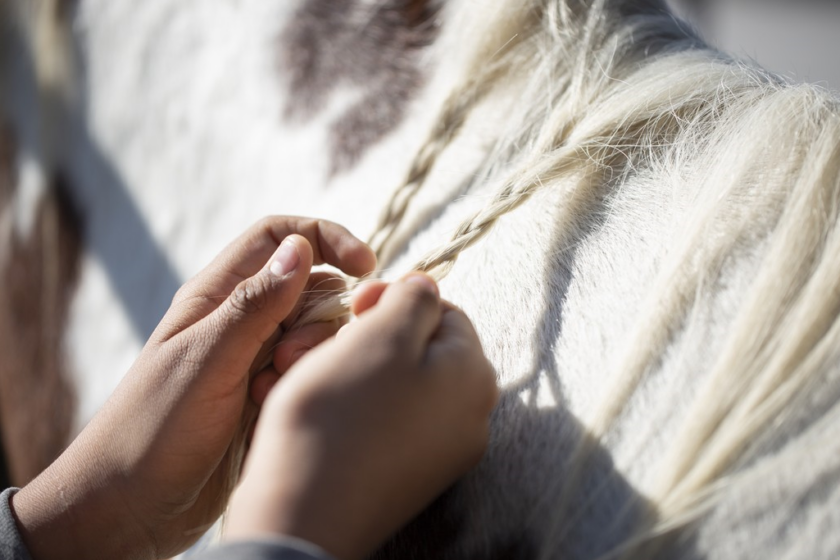 10 a.m.
If a counselor has booked a therapy session for students, these can begin as early as 10 o'clock in the morning. This could include a walk through campus or round pen work. Sessions last approximately 40 minutes. Round pen work could include brushing, braiding, leading, drawing on their coats and more.
Afternoon
The horses get a break to relax and regroup before afternoon therapy sessions begin.
1 p.m.-3:30 p.m.
Therapy sessions continue. Children can remain silent or they can talk to the horse freely, who will listen without judgment.
The presence of a horse is very therapeutic, in particular for Native Americans. There has been a longstanding relationship between Native Americans and horses. The horse is considered sacred and a relative to the Lakota.
Evening
St. Joseph's Indian School has approximately 50 acres of grassland for the horses to roam and enjoy. In the evenings, the horses have free time before it gets too dark.
Night
ZzZzZz … after a long day of providing quality care for the children at St. Joseph's, the horses have earned a good night's rest. They catch some Z's in the barn and can't wait to wake up the next morning and do it all again!
Special Days
There are times the horses participate in other campus events. They are sometimes used during smudging. Smudging is a traditional practice among Lakota people for the cleansing of energy through the burning of sage, cedar and sweet grass. They have also been featured in grand entry at wačhípi — powwow — celebrations on campus.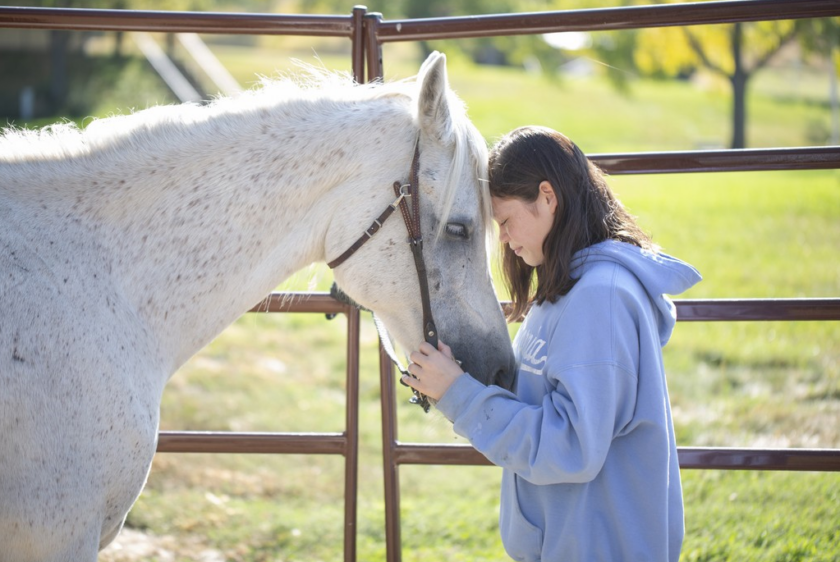 The horses are very well loved and cared for at St. Joseph's, and they return the kindness by loving and caring for the children they see every day. Campus would truly not be the same without each and every one of them.
Philámayaye — thank you — for supporting St. Joseph's Indian School and for making it possible to provide such life-changing programs and services to approximately 200 Native American student each year.