Starting in 2011 the Rec Center decided to give our younger girls an opportunity to try gymnastics. When we started out, we just had a small room with a tile floor and a stack of puzzle mats. The first couple of years, only girls in first through third grades participated, learning basic tumbling skills and stretching.
It became a big hit and, as the girls reached the fourth grade, the program was expanded to include all girls up to the eighth grade. With each passing year, we have added a few pieces of equipment and moved to the larger gym in the school. Advancing past basic tumbling and stretching, the girls can now train in all four women's gymnastics skills: uneven bars, balance beam, floor and vault.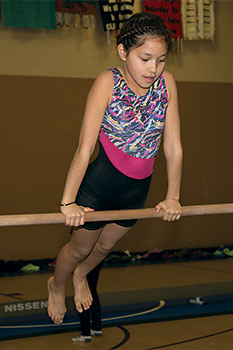 Now, we average 40 students each year in the program, practice twice a week for two months right after Christmas break. Our season ends with a performance for student families and the entire communityto attend. This year, for the first time, the girls had uniforms for the performance and received high praises as they showcased their skills!
Another exciting piece of the program has been working with the Chamberlain High School gymnastics program. For a number of years, the girls have been attending a gymnastics camp put on by the high school each spring. The girls get to work directly with the Chamberlain Cubs Gymnastics Coach and her athletes in a new facility. We have seen a couple St. Joseph's girls move on to compete at the high school level and we hope to see many more in the future.
Gymnastics is a great sport, helping students learn confidence, strength and flexibility – all great traits to have! Starting at such a young age is a great opportunity for students to learn how to be coached and be a good teammate as they begin their athletic careers. The program continues to gain momentum thanks to our enthusiastic gymnasts, generous benefactors and supportive staff!
Thank you,