Greetings from the banks of the Missouri River – a busy spot over the 4th of July weekend. We had boats of all descriptions sailing up and down the river. Even a sleek sail boat went gliding by.
The Chamberlain-Oacoma community kicked off Independence Day celebrations with a parade down Main Street followed by a rodeo, car show and a boat regatta, all before a fireworks show lit up the night sky.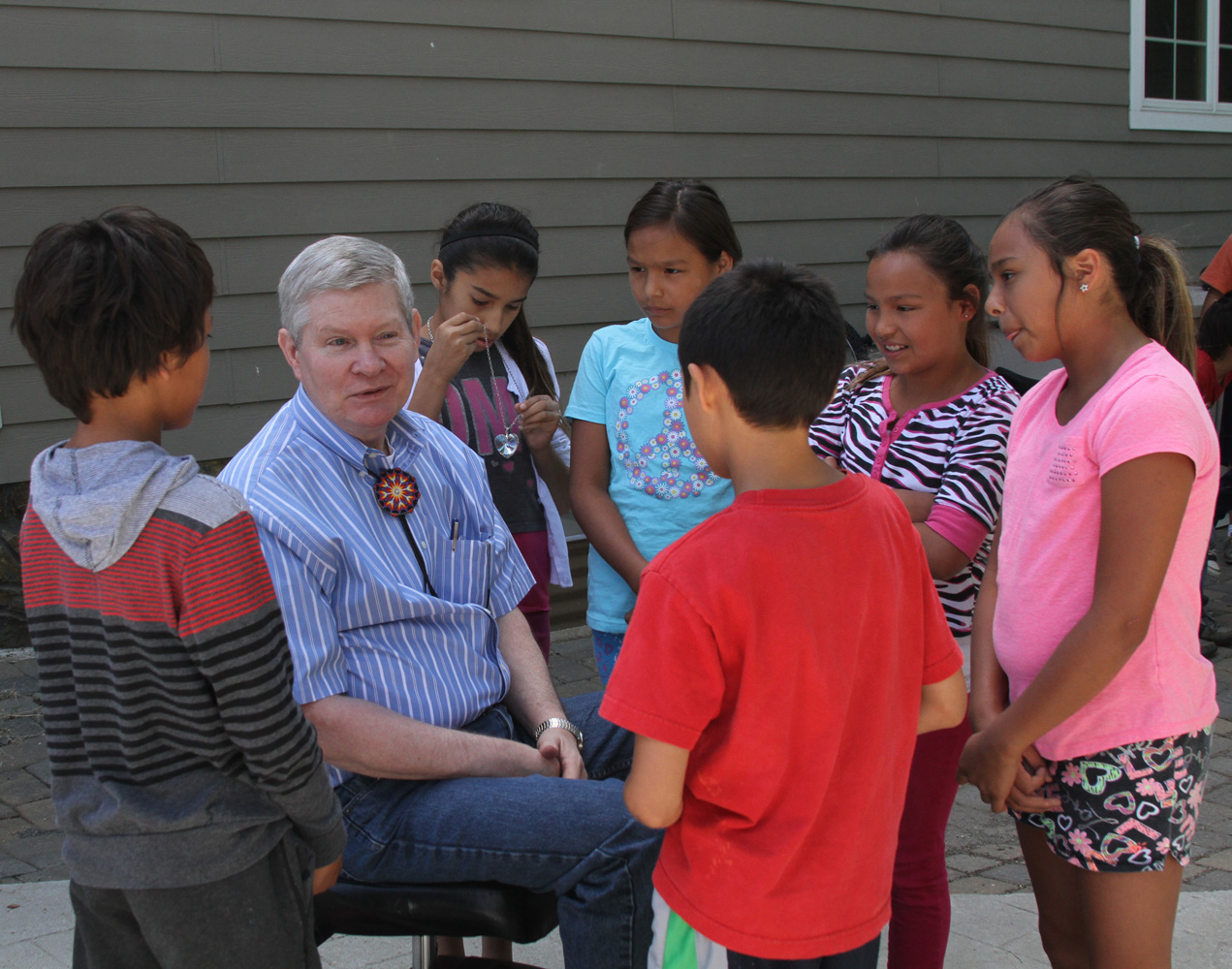 Saturday morning saw the Race on the River – a 5 or 10k fun run – which began at St. Joseph's Rec Center.  Younger children also had the chance to take part in an obstacle course.  The day ended with stock tank races in the marina with 4-person teams.
The highlight of last week was United States Senator Tim Johnson's visit to St. Joseph's.  He met with younger students in the summer home and they told him about all the fun activities they are doing this summer. High school students met Senator Johnson at the Akta Lakota Museum & Cultural Center, where they visited about St. Joseph's high school program and their plans for the future.
Senator Johnson has given 36 years of service as a State Legislator, member of the United States House of Representatives and three terms as Senator.  As he retires, he shared that he is looking forward to spending time with his children and grandchildren.  We thank Senator Johnson for his years of service and concern for Native American issues. We are grateful he made St. Joseph's Indian School a part of his farewell tour around the State of South Dakota.
The first spade of dirt has been turned on the playground project. The Lakota students use the playground during recess, after school and every other chance they get! The current slides, swings and basketball courts are showing their age and safety regulations make it necessary to replace them.
On the first day of school (August 11!) there will be new swings, basketball hoops and more for the kids who call St. Joseph's their home-away-from-home! Their shouts of joy and smiling faces will be their thanks for your generosity.
I have a special prayer request.  Members of the United States Province of the Priests of the Sacred Heart will be gathering at our headquarters in Hales Corners, Wisconsin this week for a Province Assembly.
These are held every three years and this one is extra special. It will help us prepare for the General Assembly next year in Rome when all the Provinces of the Congregation send representatives to discuss the future direction we'll take as well as elect a new Superior General. Will you keep us in your prayers? We ask that the Holy Spirit guide us in
the right direction.
Pilamaya – thank you – for your generous support for the education and care of the Lakota boys and girls at St. Joseph's Indian School.  I hope you will have the chance one day to stop in and visit. If you are planning a trip, visit www.stjo.org/visit for helpful information!
Have a blessed week.
Sincerely,
Fr. Anthony Kluckman, SCJ
Chaplain