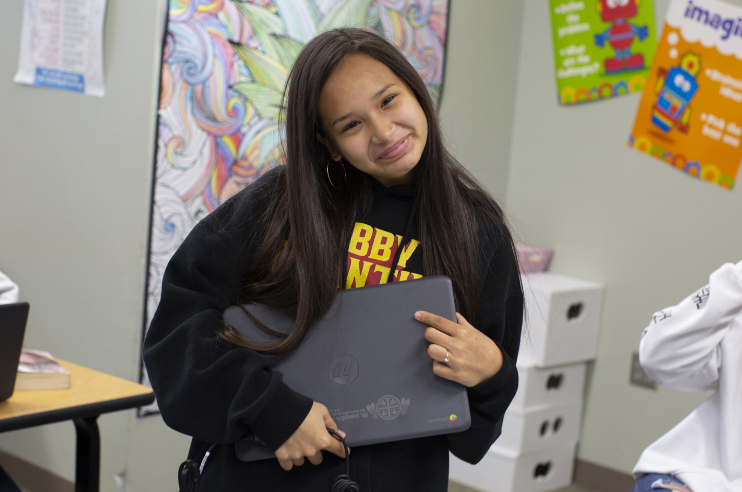 You live and you learn — that's how the saying goes. But what happens when you're actually expected to live and learn in the same square footage every day? What sort of challenges does that present?
For St. Joseph's Indian School, which has always been blessed to keep homes and school separate, it presented quite a few challenges. But, we've found ways of turning living rooms into classrooms with the help of generous donors and careful planning from staff members.
Last spring and summer when it became apparent a distance learning plan would be necessary for the 2020-21 school year to help combat COVID-19, staff at St. Joseph's worked together to devise a solution which took a lot of time, energy and … Chromebooks (laptop computers).
But, not just Chromebooks. There were so many other components needed for students to have the ability to go to school from their campus homes during a quarantine situation, or from their homes on the reservation.
Along with Chromebooks for students grades 2-8, St. Joseph's needed to purchase:
Google Management consoles
Google enrollment asset tags
Carrying cases
Home MiFi (internet hotspot devices) and the data packages
Webcams for teachers
3-year warranties for the devices
Technology isn't cheap. That was one hurdle that was graciously helped by our generous donors, including one family in particular — the Steele and Debby Alphin.
"Debby and I have grandchildren who are learning on-line, and while it's not the same experience as being in the classroom, it allows them to connect with their teachers and continue to learn," said Steele. "It's our hope that the students at St. Joseph's can continue to further their education in this time of COVID-19."
Another hurdle to overcome was primarily for teachers, who would need to shift their lesson plans online.
"There's been a learning curve for all teachers," said Sharmel, St. Joseph's principal. "There are the challenges of balancing face-to-face teaching with Google Classroom and Google Meet for online assignments, the extra preparation of uploading their work, grading and communicating online … but they are all rising to the challenge."
We're rising because approximately 200 Native American children are counting on us, and we can't let them down. Yes, this year has brought forth things to overcome. But, as more challenges arise, as we can suspect they will, St. Joseph's will continue looking for silver linings.
"We work daily on finding silver linings," said Sharmel. "This year has also increased our growth and confidence in technology. It's increased the awareness of how precious in-person teaching is. It's forced us to look at things differently and become creative."
Good things are still here … and we are choosing to focus on that. We will overcome these challenges.
"Therefore … let us run with perseverance the race that is set before us, looking to Jesus the pioneer and perfecter of our faith, who for the joy that was set before him endured the cross …" — Hebrews 12:1-2
Philámayaye — thank you — to the Alphins and other generous donors who make distance learning possible.