Our morning prayer service to begin Catholic Schools Week was an opportunity for us to introduce our new strategic plan campus wide. Aaron, in our marketing department, filmed different events on St. Joseph's Indian School's campus, and created an effective visual of staff and students demonstrating our core values in everyday life – Faith, Collaboration, Integrity, Stewardship, Respect and Excellence. I'm proud to be a part of St. Joseph's Indian School, and viewing the video with all our staff and students made me even more proud of what we are working on together as a community.
Before introducing the new vision and plan, I thanked everyone for the work they've done over the past four years to bring much of our current plan to fruition. The work we do now will lay a stronger foundation for future generations of students and staff, so that they can build on what we do today, and take St. Joseph's forward in creative and exciting new ways.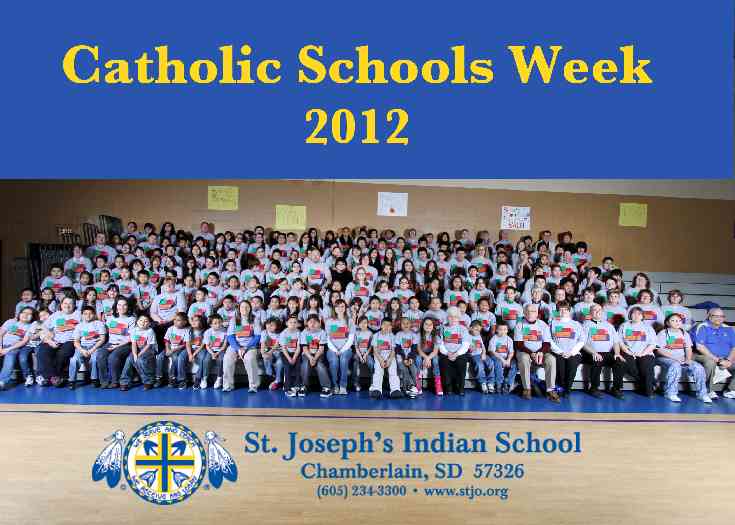 After the staff went back to work, the students remained behind so we could take a school picture with everyone on the bleachers. Emily, our photographer, is good with the kids, and after everyone is well-behaved and she gets the pictures she needs, she lets everyone get a little wild for a fun snapshot, which the students love.
We had 5th and 6th grade basketball games after school against Crow Creek, which is the Indian reservation where perhaps 20% of our students are from.  There were families in the stands rooting for kids on both sides of the ball. After the games, I was slated to visit Cyr Home (4th-5th grade boys) for supper. One of the students, Ben, invited his family to stay for supper, so the ranks were swelled by six more guests. Paula, the houseparent who was cooking, found out just a few minutes beforehand. She has learned to be very accommodating and flexible. She took out a container of leftovers, opened up a couple more cans of fruit, and served smaller portions, but it stretched around to satisfy everyone at the table and the family had a nice visit.
Some of our students see their families regularly. For others, it doesn't happen all that often. But we try our best to make families welcome whenever they are able to stay.