Good day from St. Joseph's Indian School.
It has been a busy, and snowy, last few days at St. Joseph's Indian School.
On Friday, we were scheduled to send 12 hand game participants and 17 archery contestants to Rapid City, South Dakota to take part in the 40th Annual Lakota Nation Invitational (LNI), but the roads were projected to be too dangerous to travel. LNI is a yearly gathering of Native Americans to take part in arts and crafts competition along with athletic, cultural and language contests.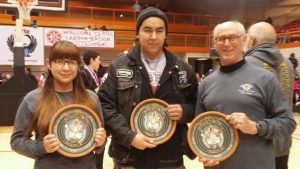 Our Knowledge Bowl participants headed out on Thursday, so they were able to compete over the weekend. St. Joseph's team earned 3rd place overall! Lily and Justin, two of our high school students, were awarded 1st place
in Grammar and Literature, respectively. We are so very proud of them.
Continue reading "What a great week at St. Joseph's Indian School!"