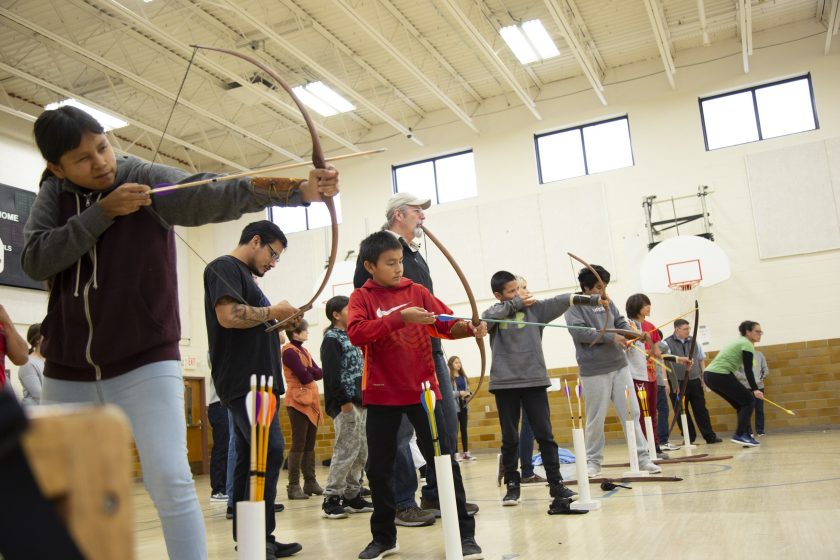 You might not expect that a room filled with young children could possibly be described as quiet. However, as Joseph Marshall III stood before them to teach traditional Lakota archery, the room suddenly became very still.
"How many of you know what this is?" asked Marshall holding up the bow and then the arrow.
Of course, St. Joseph's Indian School students could raise their hands to identify the tools.
"Now, how many of you have ever shot a bow and arrow before?" Marshall asked.
Far fewer hands went into the air … but that was about to change.
History of the Bow and Arrow
The bow was a gift to the Lakota people from the moon. Long ago, the new moon showed her curved shape to the Lakota and inspired an idea. Like the thinnest sliver of a new moon, the bow is widest in the middle, and is the area the archer holds. Traditional Lakota bows are crafted from hardwood, such as ash or oak, yet remain flexible enough to withstand the stress of the archer pulling back on the string to launch his arrows time and time again.
The arrow was also a gift to the Lakota people. Not to be outdone by its nighttime counterpart, the sun gave the Lakota a gift in the form of the arrow. Arrows are straight and quick, like the rays of sunlight that warm the earth. It was crafted with the same materials as the bow, but rather than include a graceful curve, the arrow is as straight as straight can be.
Together, the bow and arrow create the perfect team.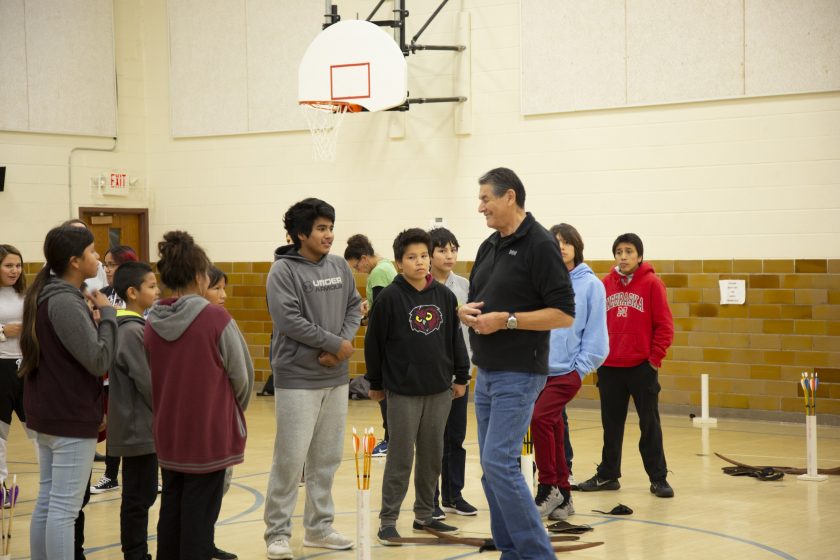 "One is no good without the other," said Marshall. "They work together."
Every Lakota boy was taught how to craft bows and arrows. After all, it was expected he would become a hunter for his family and warrior for his people. It was a skill refined and polished year after year. Women were also taught the skill of archery; however, less directly. They learned so they could protect their homes and families if the men were out hunting or at war.
This was just part of the lesson Marshall shared during his visit to St. Joseph's Indian School this fall. Pulling from his work The Lakota Way of Strength and Courage, Marshall educated St. Joseph's staff members about the itázipa  — bow — and waŋhíŋkpe — arrow.
Putting Knowledge into Action
After the lesson, staff members assisted with a bow and arrow workshop for students on Native American Day, celebrated in South Dakota on October 8. Students in grades 6 through 12 were invited to practice shooting a bow and arrow in the traditional Lakota style — it was a first for many.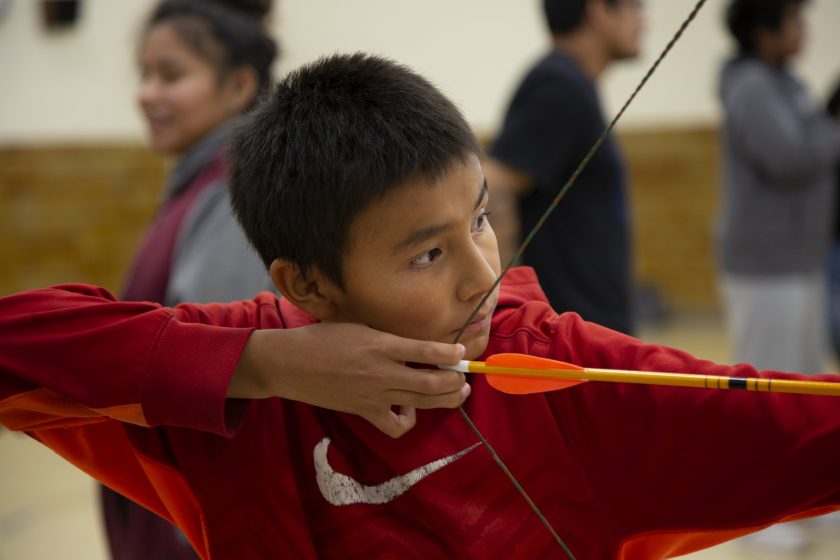 "I'm not sure I can do it," said Latisha, a 6th grade student.
But, after some guidance from the adults, she anchored her arrow, pulled back the string and let it fly. After a few rounds, she and others were hitting the target one arrow after another — there were even several bullseyes.
"I really like archery," said Landon, another 6th grade student. "This is a lot of fun!"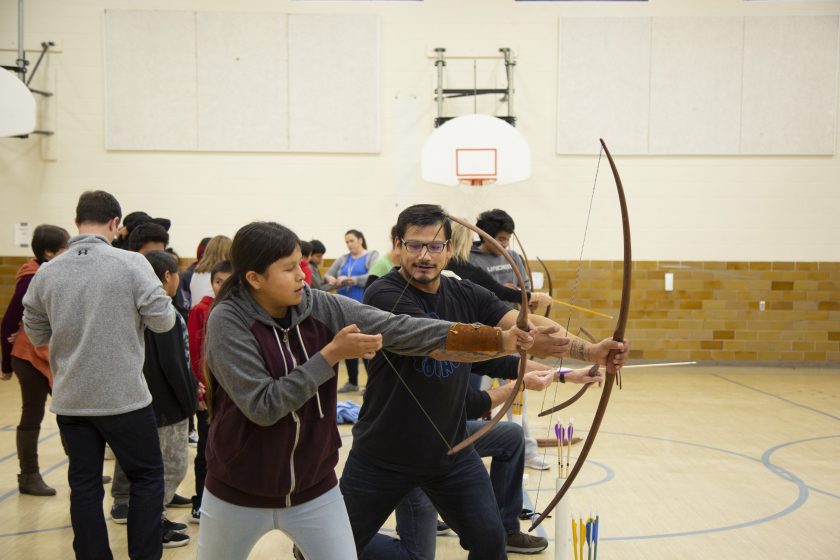 Fun, yes, but also so important. Teaching young Lakota children how to shoot a bow and arrow is just one step toward continuing the knowledge of their culture so that it remains strong and thrives. If that important lesson is disguised by a fun activity… well, that is an added bonus.
Pilamaya — thank you — to our generous supporters who make workshops like this possible, and to Joseph Marshall III for visiting campus. We are grateful!