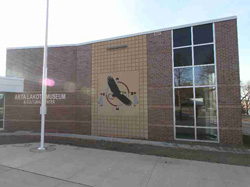 I'm Charleen, the Historical Center Coordinator; I joined the team in October 2012.  I have worked at the museum as a seasonal part-time employee the past three summers.  I have always had a love of history and I am honored to be the Coordinator for the Historical Center. My responsibilities include greeting visitors to St. Joseph's and giving guided campus tours. I am looking forward to helping our visitors learn more about the history of St. Joseph's Indian School and the great Lakota (Sioux) Culture.
Construction of the Tokéya uŋkí nájiŋpi (We stood here in the beginning) Historical/Alumni Center is still in progress. However, the Historical Center is now open to visitors and some of the displays have been completed. The displays are amazing and a visit is highly recommended. The Medicine Wheel Garden will be completed this spring. Native plants and landscaping will complete the project, once the chill of winter has gone.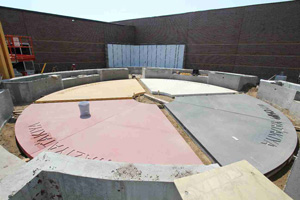 Currently, guided campus tours are available at 10:30 a.m. Monday through Friday. Tours can be scheduled at a different time if this does not fit your schedule. Transportation can be arranged for any tour.
All tours begin at the Akta Lakota Museum.
Summer schedule: May 1- October 31, daily tours will be at 10:30 a.m. and 1:30 p.m. Monday – Saturday.
In addition, visitors can enjoy a self-guided tour with additional options available at the Historical Center.
A cd to put in your car player
An mp3 player for a walking tour.
All options are free of charge.
To schedule a tour please call me at 800-798-3452 or email me at muscd@stjo.org