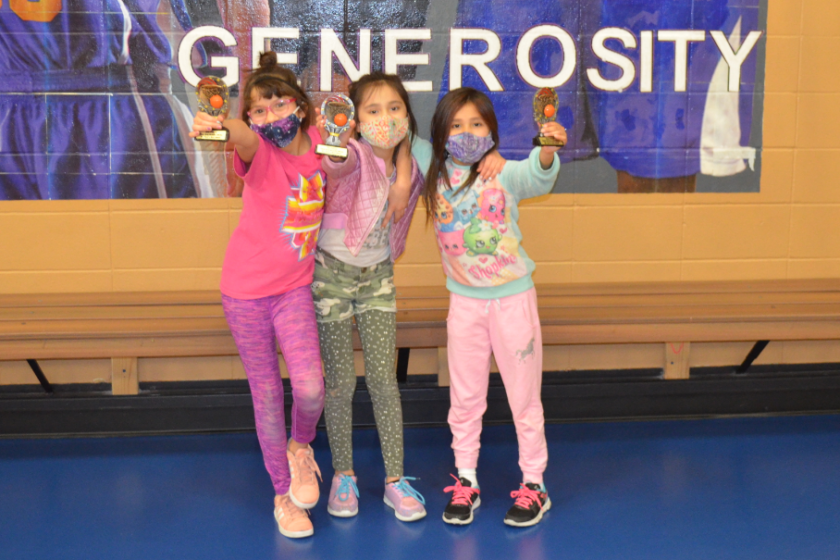 Fitting with the hype of March Madness, the love of basketball has been high throughout March at St. Joseph's Indian School. The Rec Center hosted two very cool events that have put the kids' basketball skills to the test.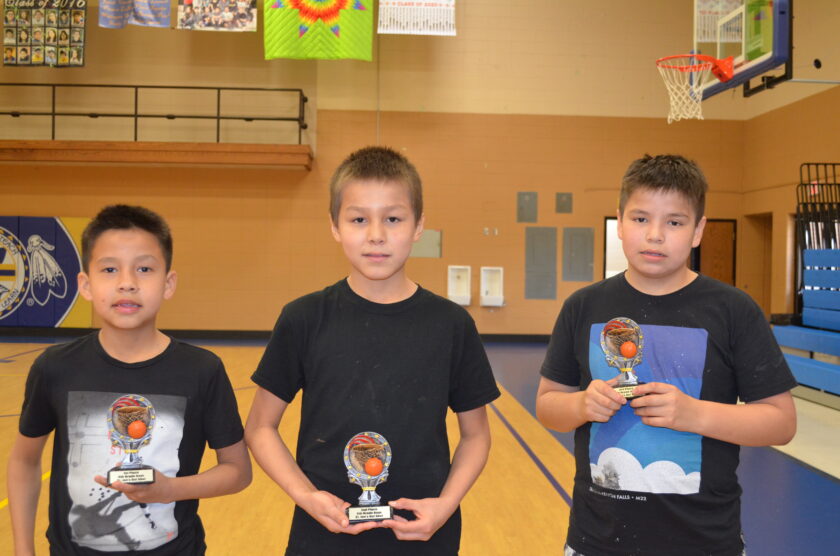 Hot Shot Tournament
Sixty-four kids, five shot markers and a quick one-minute race against the clock was the name of the game a few weeks ago when St. Joseph's Indian School hosted a campus Hot Shot tournament.
Students shot baskets from five different spots on the court. Rubber pads were the markings for each spot with a point value of two through five. The closer the shot, the lower the point value. The further away, the higher the shot value. There were also a couple chances for bonus points. The student with the most combined points at the end of two rounds was named the winner in their division.
Competition was high and trophies were given to First, Second and Third places of each age division for boys and girls.
Kena, one of the trophy winners said, "I was so happy that I wanted to cry. It was my first trophy that I had ever won. I was so grateful that I wanted to call my family and let them know that my first ever trophy was won at Hot Shots."
Basketball is important to our students, as the majority of them have a true passion for it. They enjoy the social aspect of it by playing with their friends and also competing against each other. Students are very competitive when they are on the court playing basketball.
"The passion has been passed down from generations, as many kids have had a ball in their hands before they can walk," said Bryan, Rec Center Coordinator. "They grow up in gyms watching family members and friends playing the game they love."
Sacred Hoops Basketball Camp
Sacred Hoops works with such a wide range of athletes all across the state of South Dakota, ranging from first grade kids all the way up to semi-pro adults … and they came to Chamberlain, S.D., to spend time teaching our young athletes!
A lot of other basketball camps in South Dakota focus heavily around the Sioux Falls and Rapid City areas. Each of those places is between 120 to 200 miles from campus. Having Sacred Hoops come to us for a five-week skills camp was really special.
Developing relationships with top-level coaches made for a nice experience for St. Joseph's students.
"Sacred Hoops was fun and cool. I learned how to do new kinds of dribbles, and to do it as hard as I could every time," said Aleigha, a third grade St. Joseph's student. "You have to be quick and always try your best!"
The good feelings were mutual for the Sacred Hoops staff, too.
"Sacred Hoops is beyond thrilled to have a relationship with the great people at St. Joe's to provide a camp for kids who otherwise may not have had that opportunity," said Coach Jordan Long, Sacred Hoops Co-Founder and Coach. "We want to try and reach every kid no matter where they live or their background. The kids are hardworking, respectful and eager to learn the game of basketball. We at Sacred Hoops want to thank St. Joe's for allowing us to come in and teach not only the game of basketball but also the skills of life to the athletes."
COVID-19 Note: Both events were done safely and with CDC guidelines in place. Each student community participated at restricted times throughout the day to avoid any overlap between communities. All equipment was disinfected after each community completed their session. All students and staff were also Pre-screened for symptoms.