High school girls in St. Joseph's Giles Home recently shared some spring fun with residents at a local assisted living center. As part of their spring community service project, the girls baked pumpkin bars to serve during the residents' afternoon coffee hour. The ladies loved them!
After coffee and bars were served, we had an Easter Egg Hunt with prizes for the residents.  The girls assisted some of the residents who were not as mobile as others with the hunt … without being asked.  It was wonderful to see their caring and compassionate sides!
After the Easter Eggs were found, the residents opened their eggs. Some were filled with candy and others had a slip of paper in them stating they had won a prize! Lilly called out the numbers and those holding the winning numbers got to choose a prize.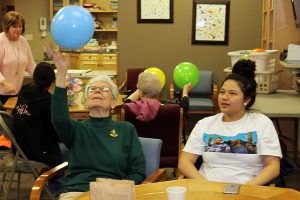 A jar filled with candy was passed around so the residents could GUESS HOW MANY. One of the residents came within 15 of the correct answer and won the jar of candy. Following all the activity of the Easter Egg Hunt and prize selection, we blew up balloons and enjoyed playing a little balloon volleyball with the residents. It was a wonderful time for everyone!
Four of the girls from our home were present to help with the event. Another helped with the preparation earlier in the day, but wasn't able to join us in the afternoon.
Trudy – Photographer and dessert server
Carolina – Pumpkin bar baker and dessert server
Lilly – Idea instigator, prize shopper, egg filler, candy counter, server
Jacie – Woman Power up and down the steps carrying everything to the suburban and ace assistant to the residents, dessert server
Pearl – Easter bag decorator
It was truly a team effort and the girls represented themselves and St. Joseph's well!
Al and Nancy – Proud Houseparents