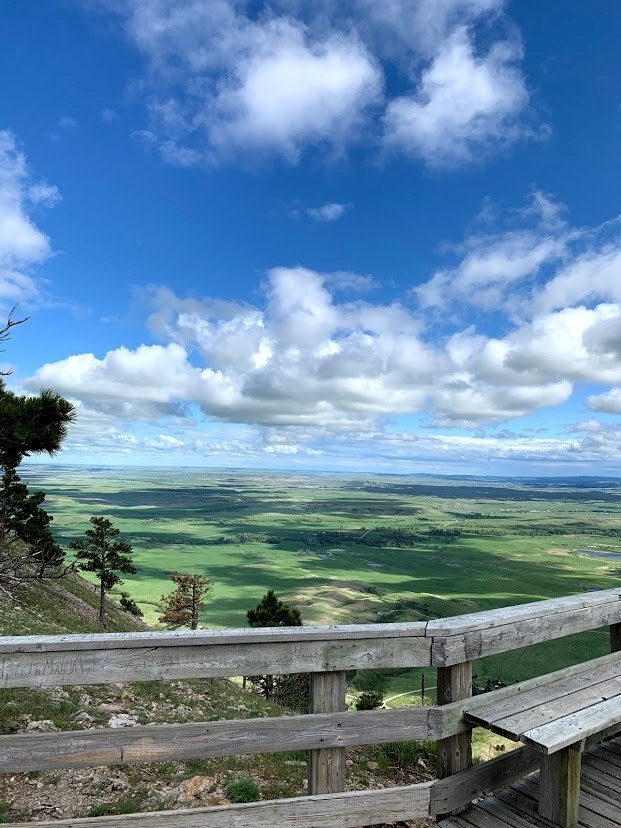 Note: The following is a reflection written by LaRayne, our Native American Studies teacher at St. Joseph's Indian School. 
At this time of year, I would normally be hiking what is known as "Bear Butte" to most, and Matȟó Pahá to the Lakota, with 10-12 seventh grade girls and two chaperones, one a generation above and one below mine. This year, I was going to be the Únči — Grandma — guide of the group, but our seventh grade cultural trip was postponed due to the COVID-19 pandemic.
This past weekend, I decided to hike the culturally relevant butte anyway as a prayer that in the fall I will be able to return with my younger generations to share a spiritual part of our cultural journey.
Over the years, I have been taught by many elders about what Matȟó Pahá is. Interestingly enough, the more I learn, the more there is to know. Our ancestors sought visions and took part in the sacred inípi — sweat lodge — ceremony at the butte. Many meetings of our allied tribes took place there and so many powerful, respected leaders of our people have walked the path.
Today, people of all nations hike the butte. I am sure the reasons for the hike are as varied as the colors of the medicine wheel for people, but some of them are simply the same. I usually hike with the goals of sharing a bit of knowledge, saying prayers for the people, and taking in the beautiful views at the top. But mostly, for me the thrill of the climb comes from seeing and feeling the positive energy of the girls. When they sense the importance of being a part of the spiritual elements of Matȟó Pahá, the cultural connection to this sacred place is made for life.
My favorite part of hiking Bear Butte is thinking about my students, family, and friends telling me they shared a strong experience with someone else. That is when you know your teachings will live on like the culture of the Lakota.
So when I hike, pray, and feel the South Dakota wind, moisture, and sun on my cheeks, I know that someone special, a generation above or below me, is going to experience that same feeling.