At St. Joseph's, providing experiences for our 200 Lakota students to explore new hobbies, or hone an existing skill, is something we strive to do – especially if those experiences dig into Native American culture.
One such skill is archery. Recently, five St. Joseph's students accompanied by two staff members, went to an outdoor archery range to practice shooting 3D targets. It was a first for some, but an experience all five students won't soon forget.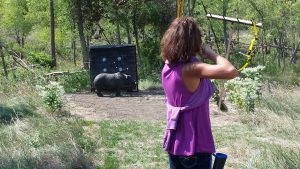 "This was a nice opportunity to get some shooting in at 3D targets in an outdoor setting, which isn't something we always get to do," said Evan, St. Joseph's Rec Center Associate.
The students who went along were Chenoa, Diamond, Charlie, Clayton, and Marques. All are experienced archery shooters. In fact, two were first place winners from the 2016 Dakota Oyate Challenge in Huron, S.D.
The students started this fun, and also cultural, experience together shooting with bows and arrows at the first deer target. Once everyone was comfortable shooting, they broke into separate groups and practiced shooting artificial animal targets ranging from deer, fox, and elk all the way up to full-size bears!
Shooting the targets with a bow and arrow from an elevated platform was a new experience for the students. It's not hard to imagine that everyone enjoyed hitting targets – especially from 8-10 feet in the air!
"It was a lot of fun," said Clayton. "I really hope we get to go again soon!"
After such a great experience, Evan and other St. Joseph's staff members hope to offer the opportunity to more students in the future.
"We had never done this particular shoot before, as this was the first time it was brought to our attention. As a result we only brought experienced shooters in a small group," said Evan. "We really enjoyed the day and will definitely plan on doing this again in the future – possibly with a higher number of students."
One last surprising fact about the day: only one arrow went unaccounted for by the end of the day!
"And that's kids shooting in the woods with very few backstops if we missed our targets," said Evan.