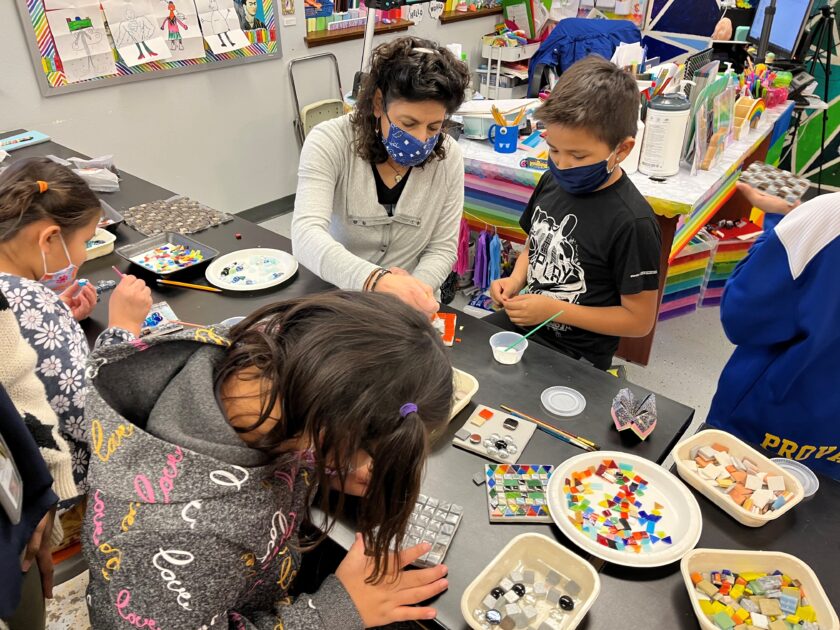 As students took their seats in the St. Joseph's Indian School art classroom, they were greeted by two faces. One was a familiar face — their art teacher, Rachel Butzin. The other was someone new — someone at their school for a very special purpose: Michele David Mechling.
Mechling is an artist with a wide array of specialties in painting, printmaking, mixed media and mosaic art. But only one of those specialties was explored during her visit to their classroom.
"How many of you have ever heard the word 'mosaic', or know what a mosaic piece of art looks like?" Mechling asked the room of students.
When no students jumped at the opportunity to raise their hands, it opened the door of opportunity for each of them to learn something new. As Mechling began discussing the art form and showing beautiful examples of her own work and those of other artists, students received a blank tile of their own. When announced the students would have the opportunity to take that bare tile and turn it into their own mosaic work of art, they began wiggling in their seats. Then, as Mechling poured pieces of colorful tiles into bowls before them, the level of excitement was nearly too much to bear.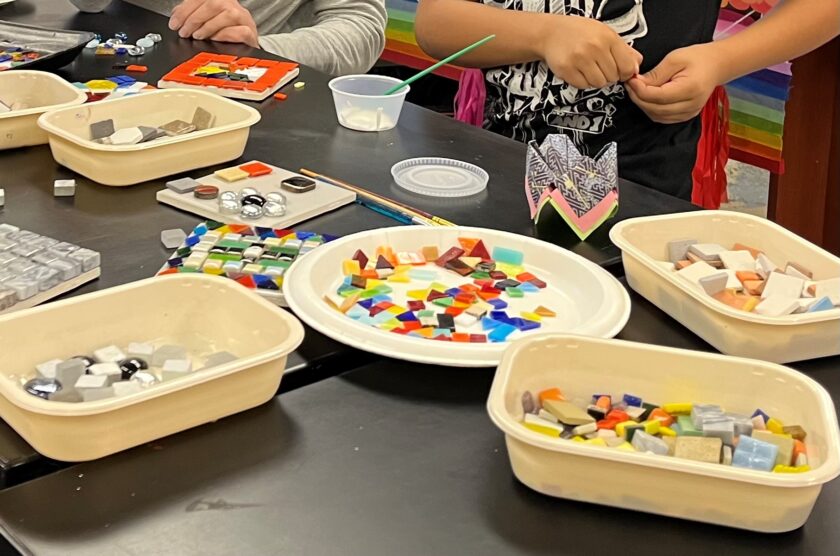 "We get to use all of these?" exclaimed Misun, one of the students.
"Yes! Map out your design first on your tile and then be careful to glue it in place so when we go to grout, your tiles don't move," explained Mechling.
Students carefully chose their tiles and returned to their seats. Nearly all at once, the noisy excitement that filled the room just moments before hushed. Students honed in on their projects, and each design was as unique as its owner. Some students made designs in the shape of the star quilt. Others made flowers, heart shapes and checkerboard patterns.
"I chose all my favorite colors," said Isabella, as she presented her design featuring purples, pinks and blues.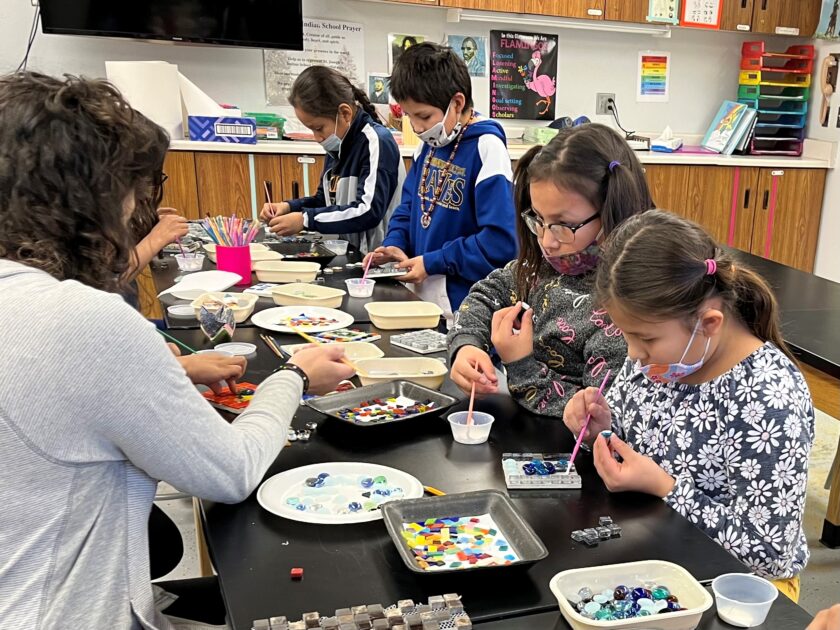 The visit was Mechling's second Artist in Residence at St. Joseph's Indian School. Her previous residence took place in 2016 when she and Wade Patton, an Oglala Lakota artist, worked hand-in-hand with students to create a printmaking piece entitled "Crossing Paths" that now hangs in the Aktá Lakota Museum & Cultural Center.
A friend showed Mechling the technique of mosaic in 2012. Mechling said she instantly fell in love with the art form, and was excited about the opportunity to share the technique with first through fourth grade students at St. Joseph's.
"It was after the first residence in 2016 in printmaking for St. Joseph that I realized I could take my mosaic experience 'on the road' with the Artists in Schools and Communities program and teach it to students of all ages," said Mechling.
As St. Joseph's embarks on a renovation and expansion of its current campus Recreation Center, a high-traffic building, the idea sprouted for Mechling to design a piece for the newly updated space. Within the existing Rec Center is a painted mural displaying the Circle of Courage. Mechling's mosaic piece mimics the mural in some ways. The overall shape is the Medicine Wheel and its corresponding colors of red, yellow, black and white. However, it includes vector shapes that highlight the four categories of the Circle of Courage: Mastery, Independence, Belonging and Generosity, as they pertain to athletics. In each opening of the Medicine Wheel, there is an image — archery to represent Mastery; swimming to represent Independence; basketball to represent Belonging; and volleyball to represent Generosity.
Mechling said creating a lasting piece for St. Joseph's — with help from the youngest of children on campus — was "a treat."
"St. Joseph's is a very enduring institution, so it was special to make something with that in mind," said Mechling. "It is amazing to me how artistic the students are — they are ahead of other children their ages in that way. You can tell they've had art all the way through school."
In return, St. Joseph's is thankful not only for the mosaic piece that will become a part of campus for many years to come, but also for Mechling voluntarily teaching some of the smallest and least experienced hands on campus.
"Throughout the year, we try to make sure each grade level has the opportunity to work with a visiting artist. We're very thankful that Michele is so open and willing to work with our youngest students," said Butzin. "She's so light and open. The students really liked her."
Mechling's visit to St. Joseph's Indian School was made possible in part through the South Dakota Arts Council Artists in Schools & Communities (AISC). AISC is a residency program for K-12 schools and community organizations, with matching funds from the South Dakota Arts Council.