How does the old saying go? March comes in like a lion or lamb and goes out like the opposite?

This year is an exception. We had bad weather at the start of the month, and a blizzard with strong winds and snow raged yesterday! Several staff members headed home early and Chamberlain students (including St. Joseph's high school students) were dismissed at 1:00 PM. Thankfully, the freezing rain passed us by and we only got 2-4 of snow. But it's cold this morning – only 12 degrees!

It's hard to believe, but Sunday we enjoyed a lovely spring day – temperatures in the high 60s. The Lakota (Sioux) students got into the spirit of the opening day of baseball by playing an afternoon ball game.

Last week, our high school students and staff took a few trips to college campuses. Several sophomores went to Southeast Tech in Sioux Falls, South Dakota, for a career day. We have a couple young men interested in law enforcement and public safety, engineering, transportation, photography and web design. Two of our young ladies are looking into possibilities in the health care field.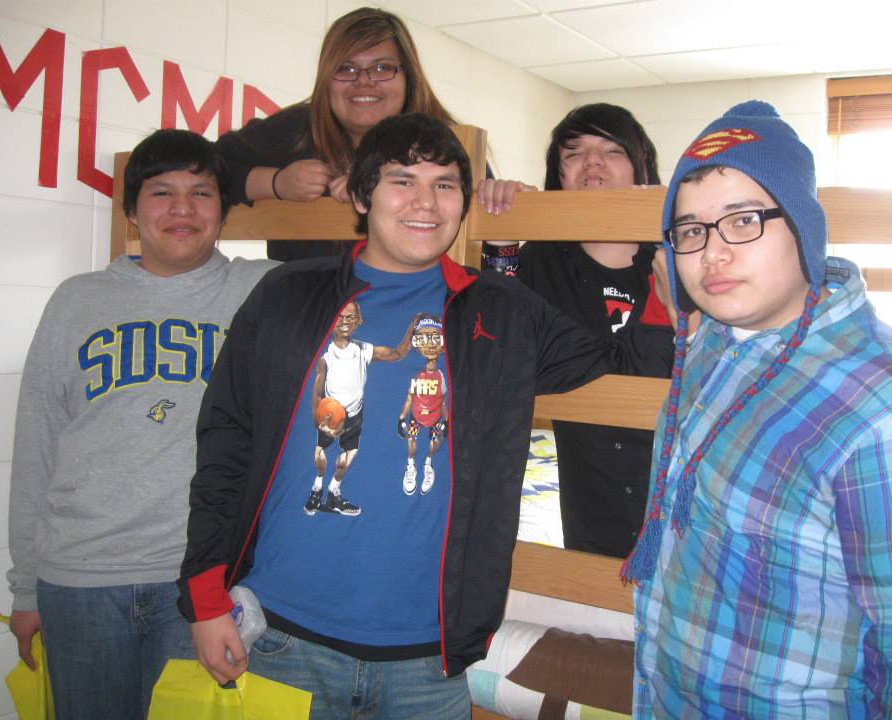 Another group went to Dakota State University in Madison, South Dakota to look into music, digital design and gaming.Later this week, some will head out to the Black Hills to visit Western Dakota Tech where one of our seniors, Dean, has already been accepted to the law enforcement program.

Mary Jane, St. Joseph's alumni coordinator, passed along some updates from former students:
• Ben, eighth grade class of '77, lives on the Rosebud Indian Reservation where he works as an investigator for the tribal police department. His wife also works for the tribe. She was recently able to finish her college degree thanks to St. Joseph's Scholarship Program.
• Kristin, eighth grade class of '07, graduated from the Navy Recruit Training Center in Great Lakes, Illinois on March 7, 2014.
• Raygina, who attended St. Joseph's from 1992-1999, is involved in the nursing program up at United Tribes in Bismarck, North Dakota. She is looking forward to finishing her degree and moving into the next stage of her life.
You may recall that last week I mentioned St. Joseph's was taking part in the Acalympics (Academic Olympics) in White River, South Dakota. There were 12 schools with teams made up of sixth, seventh and eighth grade students; St. Joseph's team came in ninth.

Kathleen, our principal, said the team did well, but scoring demands teams to be very precise in regards to spelling and complete answers. A neighboring school to the west of us, Lyman, was the winning team.

We hope each of you has a great week and that spring does indeed come as we move into April. May God bless and reward you for your generosity towards the Lakota boys and girls at St. Joseph's Indian School. We keep you and your intentions in our prayers.

Fr. Anthony Kluckman, SCJ
Chaplain