Good day from St. Joseph's Indian School.
These past few days have been cold and windy… but there has been no heavy snow, which had closed the Interstate the previous week.  The cold has kept the Missouri River frozen, which is what those who will be taking part in the ice fishing tournament next weekend like to hear.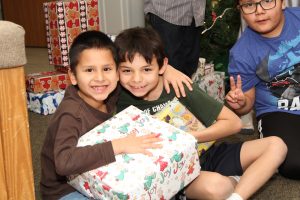 Since St. Joseph's students are away from campus for Christmas spending time with friends and family, we celebrated Christmas here the first Sunday after they returned (January 8).  I was wondering what we should call the day and a young student came up to me and said, 'happy St. Joseph's Christmas!'  It is as good a name as anything else!
The Sunday celebration is something special due to the generosity of many benefactors.  With the money each home is gifted with, our houseparents can go out and shop for specific gifts for each student in their home or can buy a similar gift for each student.  It was impressive this year how generous people were and how great a job our houseparents did to get gifts wrapped and under the tree.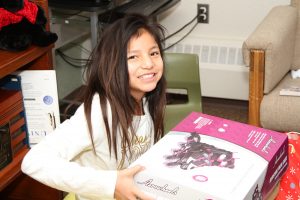 "St. Joseph's Christmas" fell on the Feast of the Epiphany this year.  The students were excited when they came to Our Lady of the Sioux Chapel because they have gone by the Christmas trees at their Homes and had seen the gifts waiting for them.
Just before we started this year, a little girl came walking across the altar from the choir and very seriously said to me, 'can you hurry up Mass today, we have a lot of gifts to open.'  With a straight face I told her I would try.  We did get out a few minutes early and everyone headed home quickly.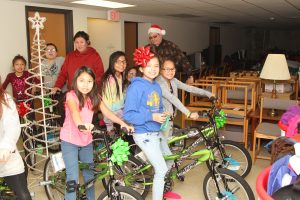 Each home has their own way of doing things.  Some open a few gifts and then have breakfast and finish up on the gifts right after, some eat first and then open and some open all the gifts right away and then eat.
Once it is decided when the gifts are to be opened, they then determine how.  Some have each student open one and show the others and then move on, others have all the students open one gift first and everyone check out what was received, and some pass all the gifts from under the Christmas tree to each member of the home and allow the child to open and admire the gifts at their own speed.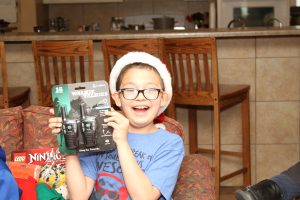 No matter how organized the planning is, wrapping paper, ribbons and bows always go flying in all directions! Over the years, our houseparents have realized that having a big sack ready to gather all the paper and decorations as presents are opened makes the whole cleaning-up process afterwards much easier.
There were gifts of all types—tablets, snow boards, Mario 3D-Land, cameras, basketball shoes with their names on them, walkie talkies, phones on which they can play games, in-line roller skates, bean bag chairs and even a visit from Santa and Mrs. Claus to the William Home to pass out the gifts!  Prior to the Claus' arrival, the girls had found 'coal' in their stockings which turned out to be candy.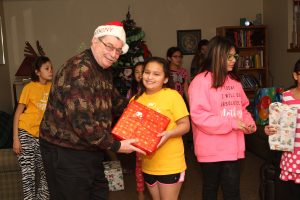 As you can see from the pictures, taken at various homes, there were a lot of smiles, giggles and 'ooh's and aah's' for what was received.  A special pilamaya—thank you– for your support! You helped make the day so special!
From time to time, I am asked how our recent graduates are doing in the college of their choice. Today, I have some great news to share.  Katie, a 2016 St. Joseph's graduate from Chamberlain High School, has made the Fall of 2016's Dean's List at the Institute of American Indian Arts in Santa Fe, New Mexico!  To make the Dean's List, one has to be enrolled full time, complete 12 or more credit hours, and have a cumulative grade point average of 3.5 to 3.99.  We extend our congratulations and best wishes to Katie!
Our basketball players are getting excited as the tip off of their season draws nearer.  In the next few weeks, our 4th-8th teams will face Pierre Indian Learning Center, the Chamberlain Cubs and the Crow Creek Chieftans. We look forward to cheering them on!
Since their return to campus, St. Joseph's boys have been practicing and getting their shoes and uniforms ready and the 7th and 8th grade girls have been practicing their cheerleading skills.
It seems that several recent grads have learned their routines well, as they are now cheerleaders for the JV and Varsity basketball team at Chamberlain High School!
There is never a dull moment here at St. Joseph's.  I hope your life is as exciting and rewarding as it can be.  May God's blessings be with you.  Know we keep you and your intentions in our prayers.
Right now we have a novena of Masses being offered for all our Benefactors as our way of saying thank you—pilamaya— for your generosity towards and support of St. Joseph's Indian School.
Sincerely,
Fr. Anthony Kluckman, SCJ
Chaplain