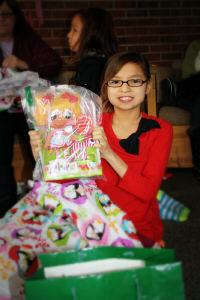 While most people took their Christmas decorations down long ago, today was our big day to celebrate with the Lakota students at St. Joseph's Indian School. At liturgy, one of our fifth grade classes volunteered to act out the Nativity Story.  The cast included the Holy Family, Magi, Kings and even a Star to help it come more alive. We try to encourage (exhort, plead!) students to fully participate each Sunday by singing with some gusto. Because our songs today were all well-known and loved Christmas classics, it was not a problem.
After mass, students returned to their homes for a family-like Christmas celebration that included opening the presents that our donors so generously provided. Our kids received a good mix of fun items, toys and games, and clothing they need for school or sports. I was able to spend a little time in each of our homes.
William (4th-5th grade girls) – I was invited to pass out presents, and see the smiles as the girls saw colorful winter hats and fuzzy animal slippers.
Rooney (6th–8th grade boys) – A giant Christmas stocking held the presents as each boy dug deep for presents like footballs and basketballs.
Speyer (6th-8th grade boys) – The boys sat in a circle around the Christmas tree as Sue, their houseparent,  gave them instructions on keeping track of gift tags so they would be able to properly thank those who sent them gifts.
Matthias (6th – 8th grade girls) – The girls were opening their presents one at a time, while houseparent Daniel took lots of pictures. They were most excited about clothing and lotions.
Stevens (6th– 8th grade girls) – Presents were all opened by the time I arrived. One of our athletes was so excited with a new volleyball she received, that she talked her roommate into going outside to practice – and the temperature was a chilly 9 degrees!
Pinger (6th– 8th grade girls) – These girls were also finished by the time I stopped by. The girls were doing their homework and getting ready for Monday classes. They were already wearing some of the sweatshirts they'd received.
Fisher (6th– 8th grade boys) – One smaller present the boys all received in their stockings was a wooden paddle with rubber ball and string attached. Carol and Dick, their houseparents, were organizing a competition to see who could keep theirs going the longest.
Cyr (4th-5th grade boys) – The boys had the contents of their stockings laid on the kitchen counter before them. They were most fascinated by the plastic pencil sharpeners and were all busy trying them out on a pile of pencils, and capping the end of with Angry Bird erasers. To create atmosphere, the TV screen carried a video of a roaring fireplace.
Perky (4th and 5th grade boys) – These boys opened part of their presents and were preparing to eat. They had attractive platters of cookies and other goodies that Wendy, their houseparent, had helped them create.
Summerlee (4th and 5th grade girls) – The girls took turns showing me their mood rings and asking me to guess what it said about how they were feeling. I also had to answer quiz book challenges about presidents and the states. They were very excited about roller blades they received and had plans to break them in later in the afternoon.
Afra (1st-3rd grade girls) – The girls were gathered around the dining room table with houseparent Luisa, who was teaching them how to paint Christmas cookies with different colored frosting. Some looked like works of art (but not too good to be spared eventual eating).
Raphael (1st-3rd grade boys) – The boys were enamored with the play action figures of wrestlers, and were staging bouts with sound effects all across the playroom.
Ambrose (1st-3rd grade boys) – The boys received legos and a few mechanical toys with "some assembly required"– if they could only concentrate that well on their schoolwork, they would receive many scholarships!
Dennis – (1st-3rd grade girls) – These young ladies were engaged in introducing their new dolls to one another.
Crane (HS girls) – Our older students are mostly into music and many had scooted off to their rooms to play new CD's. While I was there, a call came from the upstairs boys' home asking them to tone it down a little!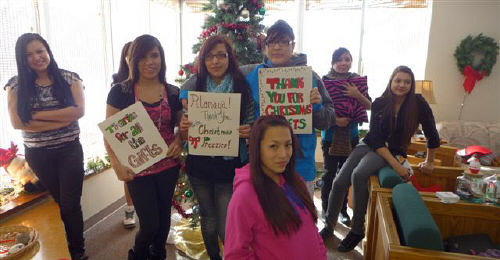 Giles (HS boys) – The guys received a set of drums as a big group present. I came across them running around campus looking for clues in a scavenger hunt as to where to find it.
Carola (HS boys) – This home was quiet as many of the guys were watching NFL playoffs or getting in a weekend nap.
Hogebach (HS girls) – Besides individual presents, these ladies showed off some of their home presents when I stopped in – a new waffle maker and other kitchen supplies.
Sheehy (HS boys) – These guys are into sports and music, and showed off some new jerseys, balls and posters they received.
Some homes had sit-down meals, others had fancy snacks and finger foods to share as different staff members stopped by to share in the festivities. While each home had their own unique traditions of celebrating, it was a festive and fun day all around.