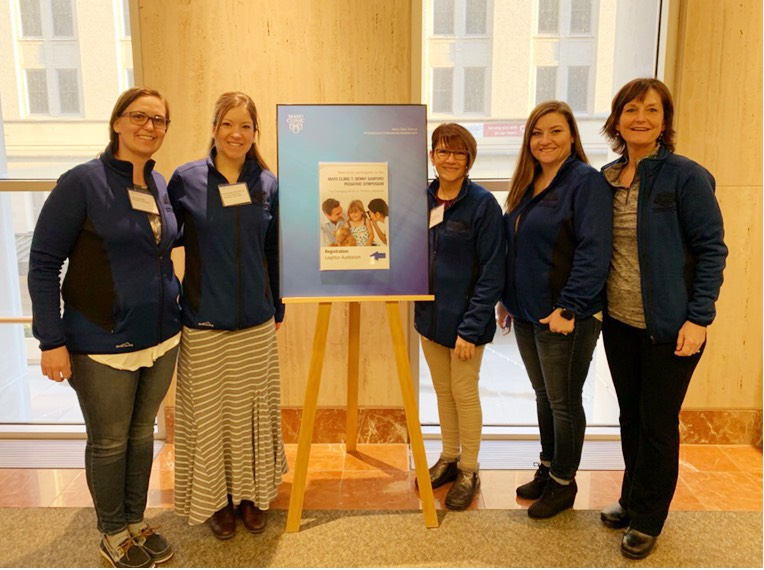 Pediatric medicine is ever-changing. To stay on top of the latest advances, St. Joseph's Indian School nurses recently made a 370-mile trip to the Mayo Clinic, an organization famous for research and medical advancement.
The trip was an opportunity for nurses to learn new and improved ways of caring for patients by attending the T Denny Sanford Pediatric Symposium: The Changing World of Pediatric Medicine 2019.
The event consisted of nine presentations from presenters such as Dr. Fernando Stein, MD, a past president of the American Academy of Pediatrics. Some of the topics included concussion evaluation and management, the role of genomics in mental health, emerging pediatric infections and antibiotic use.
Of the five St. Joseph's nurses who attended the event, each brought home different lessons. The group is already brainstorming ways to improve healthcare provided at St. Joseph's Health and Family Services Center.
"The antibiotics presentation was very interesting to me. Our bodies can and will do miraculous things if allowed," said Ronda, LPN, at St. Joseph's. "But, one of the things I brought home with me was that nurses need to become educators to all of our patients. This should be our number one role as their nurse."
St. Joseph's is a unique place where staff and students are encouraged to excel in their personal health. Nurses at our school have the opportunity to effect change, especially in comparison to many other nurses attending the event.
"The majority of the ideas and asks of the audience could take years, possibly decades, to accomplish in large health systems. However, we at St. Joseph's are truly unique and special. We could make changes in months," said Michelle, RN, St. Joseph's.
Which, in a field that is constantly changing, is a blessing. St. Joseph's provides the ability to improve patient care by removing common barriers often found in a healthcare clinic, such as access, cost, availability and more. Due to generous donor support, we are empowered to care completely for others — mind, body, heart and spirit.
"It was an honor to go to the conference and bring that information back to our community," said Michelle.
And we have you, our tiyospaye – extended family – to thank. Together, we will provide the best care possible to the over 200 Lakota boys and girls at St. Joseph's, their families and our staff.