When I was traveling with the girls, they were usually coming to the bus at the last minute, or fashionably late. The boys, however, packed up the bus and were ready to roll 20 minutes early, so we got a head start on our 350 miles to Fort Laramie.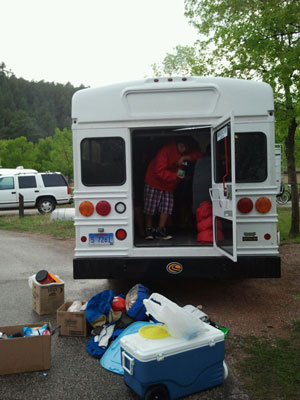 Nate, a St. Joseph's staff member, had been talking with various site officials along the way, explaining that we were trying to give our Lakota (Sioux) students a better sense of their tribal history and culture. The Fort Laramie staff was especially helpful. The park superintendent and a seasoned ranger both came out to greet us. They spent over two hours walking us through the buildings and helping us to imagine the hustle and bustle of the Fort during the 1800's.
Fort Laramie was strategically located one-third of the way on the California and Oregon trails, and at the halfway point of the Mormon Trail. Thousands of wagons passed through at the height of the drive westward. Settlers and their livestock disrupted the migration paths of the buffalo and took up precious resources as they grazed, hunted and gathered along the trail. This lead to inevitable conflict.
I was surprised that the fort had no stockade fence around the perimeter, and was open like any town would be. The ranger compared it to a modern shopping center, where people traded and mingled freely. She told us, "no one would want to burn down the Walmart of their day."
The boys were enthralled by military things – barracks and cavalry uniforms, shackles and ball and chains placed on those in the guardhouse. An armory displayed the weapons used by the frontier army. A strong sadness overcame me when I saw the type of Hotchkiss canons that were opened up on Native American women and children at the Wounded Knee massacre.
Three tipis were set up in the pasture near the fort. That was likely the general area the treaties of 1851 and 1868 were signed.
We drove another three hours back into South Dakota and camped in Hot Springs for the night. After a day of travel and touring, our teenagers were ravenously hungry. It was too wet to cook outside, so we settled for a Chinese buffet. That wasn't available in the 1800's, but it sure was tasty and hit the spot before we called it a night.