Every Tuesday for the next few months, we will be highlighting one of our 20 homes on St. Joseph's campus.

Here at St. Joseph's, we provide nationally-accredited home-away-from-homes for Native American children in grades one through twelve.

There are no dorms at St. Joseph's. Children live in one of our campus homes with two specially-trained houseparents. They live and play together as any family would. The boys and girls learn life skills and enjoy spending time with their 'St. Joseph's family'.
St. Joseph's DAVID HOME is one of our 1-3 grade girls' homes on campus.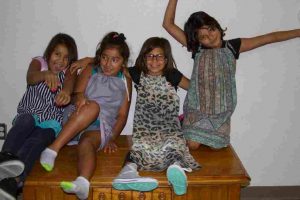 Luisa and Jachin are the David Home 6-day houseparents. They do a fantastic job with the young girls in our care here at St. Joseph's!
Here are a few fun facts about the girls of David Home:  
FAVORITE ACTIVITIES:
Playing in the toy room—the David Home's school days follow a schedule and their weekends have a lot of structure. The girls have gymnastics, swim lessons, enrichment lessons and other campus programs and activities, so simple free time is very much enjoyed. They love going in the toy room!
Horsemanship Trip—the highlight of their year so far was going to Standing Rock on a horsemanship trip. Before the trip, some of the girls had never touched or ridden a horse before. The girls raised the funds for it and had a great experience.
WEEKEND FUN:
Saturday morning cereal and cartoons- the girls can sleep in and come out for breakfast in their pjs, which is quite different than their structured school mornings.
FAVORITE FOODS:
Fruit
Granola yogurt parfaits
HOME TRADITIONS:
Nacho Libre Day- Luisa makes nachos 'with the works' and the girls and houseparents all watch the movie Nacho Libre together.
Chokecherry picking—every year, the home goes chokecherry picking together and makes wojapi with the berries. It's a women's tradition in the Lakota culture and the David Home enjoys doing this activity with the girls to help them learn about their heritage.
Spa Day—Every year, the David Home has a DIY spa day and the girls enjoy pedicures, face masks, zen music and cucumbers. They set up a 'spa' and all the girls take turns serving each other. They love this day!
Friday Song—Every Friday, Luisa and Jachin play an obnoxious "Friday Song" at dinner. The songs gets the girls pumped up and sets the tone for a great weekend.
ANYTHING ELSE?:
The best thing about the David Home? – Telling stories. "We often tell the kids about our childhood and we allow them all to share stories about their homes and families. We bond over stories and most of the time it leads to laughter. We do this often-especially at meal time- and it's our favorite. At dinner, everyone also shares their best and worst parts of their day. The others yell "WOOP WOOP" or "WHOOO" in unison as a group if someone doesn't have a 'worst' part to share."
What's something that's unique about the David Home? – Luisa and Jachin work as a husband and wife team and get to bring their son along to work. He is 2.5 and has been around the kids from St. Joseph's from day one. "We have to admit, having a toddler in the room makes things like teaching our social skills curriculum twice as challenging, however, we have found that having a little one around has been amazing for the kids. Our girls are all very attached to him and it gives them an opportunity to teach, lead and protect another tiny human. They also get to see a healthy husband-wife relationship and are able to see us equally sharing all the daily responsibilities that come with caring for a baby. It sounds so basic, but this model for our girls is so very important!"
Stay tuned… we look forward to introducing the Hogebach Home next Tuesday!