Wednesday February 3, 2010
Today was our school spelling bee.
Initial rounds were done in the classrooms; then, each grade sent the top 6 finalists to the school gym for the friendly competition in front of cheering classmates.
Fr. Anthony and I took turns as MC, which helped me from playing out.
Some of the matches were decided quickly; others went round after round to determine a champion.
The last group was, of course, the 8th graders. It came down to 4 students who went many rounds without missing.
The difference in their personalities showed even in how they spelled.
Cody is easy-going, had fun and grinned ear-to-ear as he got each word right. Amber is shy, and the judges could barely hear the letters as she successfully handled her words. Erica spelled perfectly; yet, each word finished came with a big question mark. Christian had bold confidence as he rattled off the words.
We got through the regular list and moved on to the challenge words, which caused two students to falter. It came down to Cody and Amber.
Both missed a few words, but since their competitor couldn't finish the word, the spelling be went on.
Finally, Amber got a winning word right, but two of the judges couldn't hear what she said.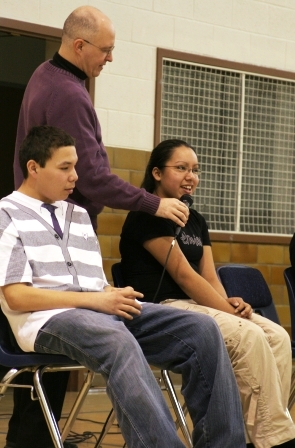 I was right next to her and said, "I heard you do it right, Amber; now, go ahead and show the judges you can do it."
She repeated her spelling more boldly and won!
It's so satisfying when our students overcome their fears, shyness, insecurity, whatever, and find ways to succeed. Some students are more gifted and talented, but all generally need affirmation and encouragement.
I suppose that's a good thing for all of us to experience from time to time.