Wednesday, April 7, 2010
Today, I passed the half-way point in my radiation treatments – 13 down and 12 to go.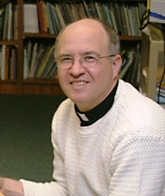 I met with my radiologist to review how things are going. I asked about the sun-burned look of some patients, but since my radiation is directed deep inside, that probably won't happen with me.
My side effects remain light and manageable, so the consultation was fairly short. While my doctors are pleased that it's going well so far, I am thrilled.
We also have a date for surgery – May 25. The bad part is I'll miss 8th grade graduation. But, I finish radiation April 23, and I get to be back on campus for a full month of all the end-of-the-year activities that fill up the last weeks of the school year.
Jim, another man from Chamberlain, is also here for treatments. We ran into each other in the halls of the hospital today. It was nice to see a familiar face and catch up on some news from back home!