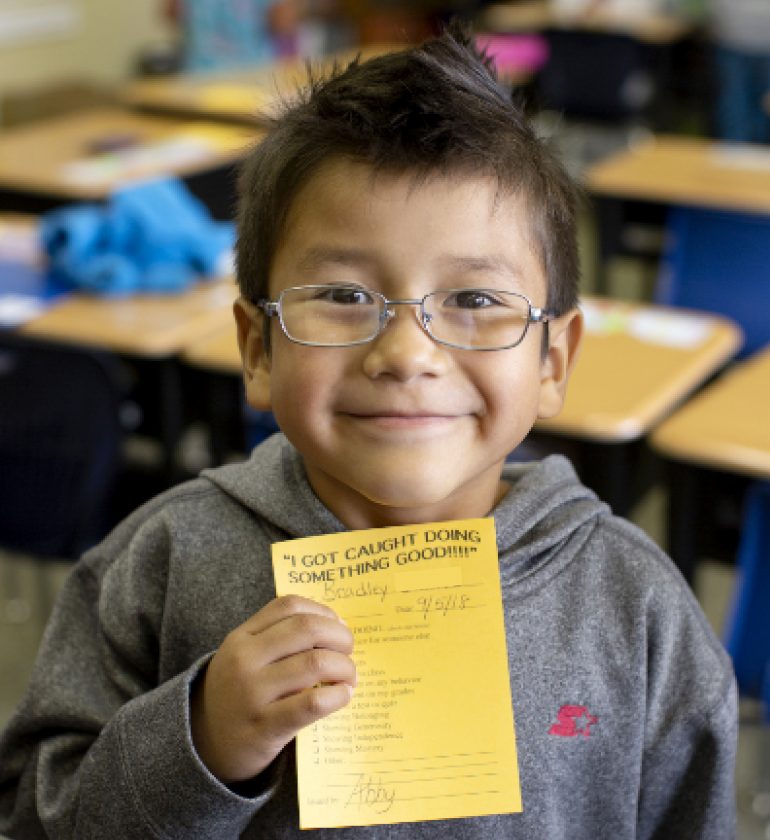 Doing the right thing has its rewards – just ask St. Joseph's Indian School students who are "Caught Doing Something Good!"
As students go about their school days, they have opportunities to help their peers and teachers. Whether that's holding the door open for someone, standing up for a classmate, or assisting someone who is hurt – the opportunities to do the right thing are endless.
To reward students who strive to do good, gold "Caught Doing Something Good!" cards are awarded. Students who display the Circle of Courage virtues can also receive gold cards for showing belonging, generosity, independence and mastery.
Each week the names of gold card recipients are gathered. Fifteen student names and one staff name are drawn for prizes and announced over the loud speaker to the entire school. Prizes can be anything from gum, to toys like Hot Wheels and Beanie Babies.
Although the opportunity at a prize is motivation to do nice things, students take pride in getting gold cards even when their name is not drawn for a prize.
"Students do enjoy getting gold cards and also the prizes that come with it," said Sharmel, St. Joseph's school principal. "Of course we encourage to do nice things regardless if they receive a gold card."
We're proud to say that last year 332 gold cards were turned in! That's a lot of good going around St. Joseph's Indian School!
In the same way, let your light shine before others, so that they may see your good works and give glory to your Father who is in heaven." – Matthew 5:16
Pilamaya – thank you – to our generous supporters who make programs like this possible at St. Joseph's Indian School.