Today we held our annual healing camp for students who are grieving the loss of a loved one, especially those who have lost someone dear to them over the past year. Fourteen staff members volunteered to spend the day with 15 students (two sisters shared one counselor) in a variety of activities that help them express feelings and memories.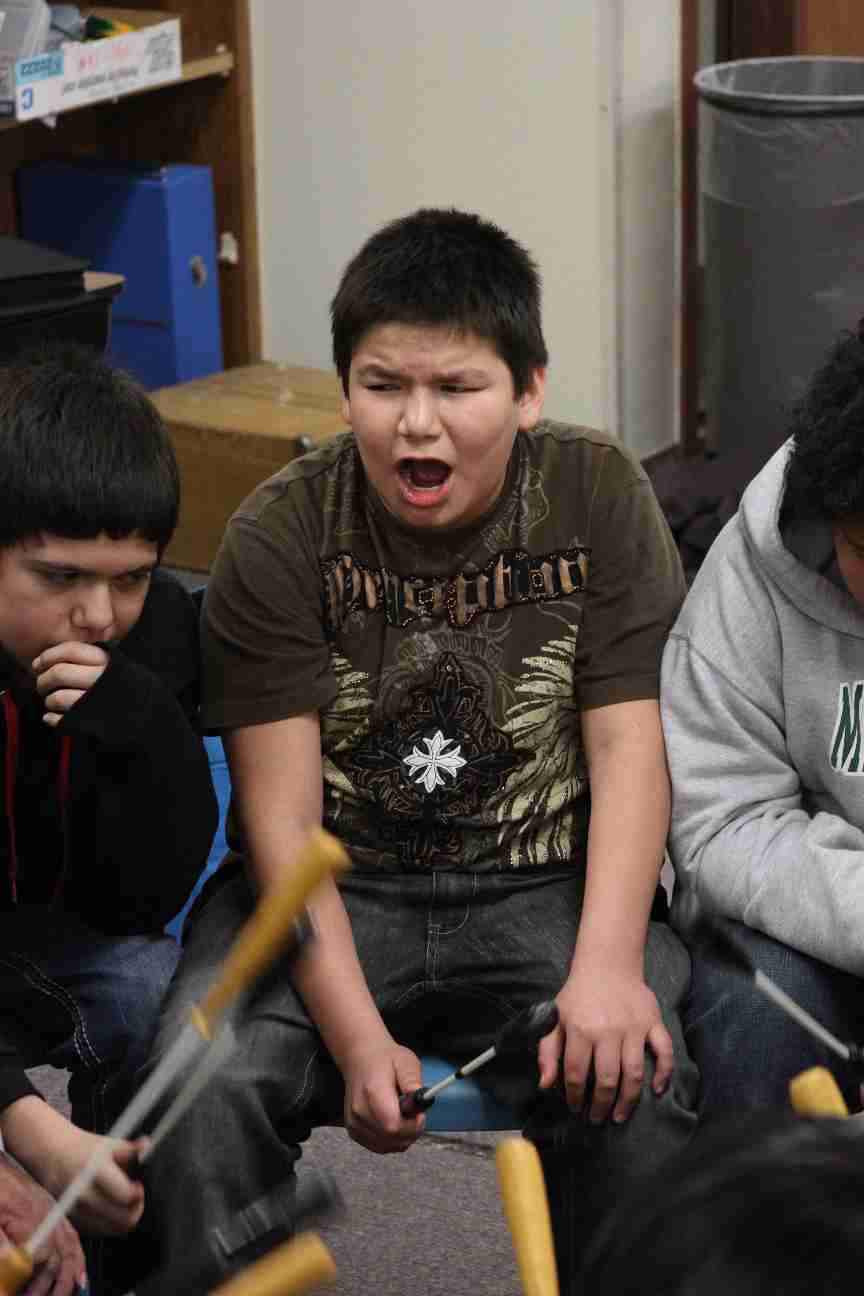 We began the day with our drum group – The Chalk Hills Singers – singing a prayer song. We now have a dozen boys crowded around the drum! Next year Mark, the advisor, is considering starting a second drum group because of all the interest. There are also three girls who came forward. Traditionally, they don't drum, but stand around the circle and add their lovely voices to the song.
To begin healing camp, I shared the scripture from John's gospel about Martha and Mary's reaction to the death of their brother Lazarus. One ran out to meet Jesus, while the other stayed at home. Each of us handles grief differently; some may need the company and support of others, but others may need down time to be alone. I wanted to give students the freedom to feel whatever they would feel during the day, and know that was okay.
One of my favorite activities was when everyone gathered in the Akta Lakota Museum classroom for a guided imagery about a conversation they would have with the loved one they were missing. As students and staff shared, they each had a glow-in-the-dark pendant, which they snapped to activate. The room gradually lit up, and the sharing produced both tears and happy memories. We ended with a circle of hugs and handshakes all around, then went outside to tie a memorial prayer tie in one of our trees on campus.
Other activities included writing a letter to the deceased and placing it on a fire with the smoke rising to the heavens, some fun time in the gym and rec center, Q and A about death and heaven, and one-on-one walks with the staff buddy.
Fr. Anthony led the group in a closing prayer service, with a lighting of votive candles and a prayer in memory of the beloved deceased. Many of our students have suffered significant losses in their young lives, and this is one way we've found to help lead them through such difficult days.