Happy Tuesday to you all!
I write with mixed emotions today, since we've said good-bye and hello at the same time this week.
You may remember Fr. Steve sharing with you that we had a visiting Portuguese SCJ, Fr. Jose, staying at St. Joseph's since April as he worked on his thesis.  He really got into the swing of things on St. Joseph's campus and throughout South Dakota.  He went with Fr. Steve and Lakota (Sioux) seventh graders on their cultural trip to the Black Hills and other important places to Native American heritage in neighboring states.
Fr. Jose also went to Hales Corners, Wisconsin, to observe the election assembly that chose Fr. Steve to be our new Provincial.  I think the only thing we may have missed while he was here were the lawn mower races in Pukwana, South Dakota!  Father Jose left about 10 days ago to visit our SCJ confreres in Houston, Texas and see the work that is being done there at Our Lady of Guadalupe.  He'll head back to France in mid-August.
The other 'good bye' was for Fr. Steve as he headed out for Hales Corners early Sunday morning. On August 1, he will take over as our new Provincial.  He reminded me that he'd be coming for St. Joseph's powwow in September, so you will have the chance to see him then if you can attend.
Hellos were said to our new staff members who are on campus this week for orientation.  Right now, they are on a scavenger hunt, which will take them around the campus to find various sites they need to know about.  They'll be taking classes on First Aid, fire safety, adult and child CPR and use of the AED, and learning how to fill out various forms they will need for school, in the homes or kitchen for supplies.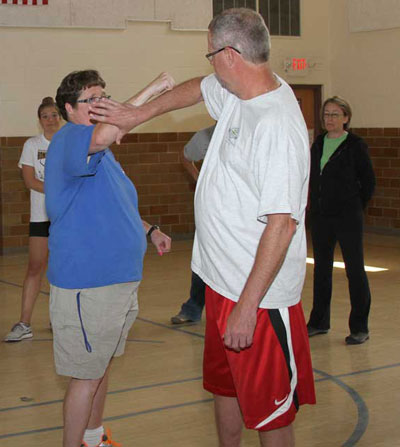 We are very grateful to have them! Their willingness to blend their talents and skills with our veteran staff will help us provide our Native American students with the best, safest and most rewarding program possible. Of course, all this is thanks to your generosity.
Next week, St. Joseph's returning staff will begin orientation. On August 11, students will return and class begins Monday, August 12. As you can see, things will be busy for a while!
Thank you again for your support of St. Joseph's, both financial contribution and prayers – we are grateful for your friendship! Have a great week and may God's blessings continue to be with you now and always.
Sincerely,
Fr. Anthony Kluckman, SCJ
Chaplain
St. Joseph's Indian School
PS.  Please keep Fr. Steve in your prayers this week as he prepares to be installed as Provincial on Thursday, August 1, 2013!  If you could say a prayer for him that day, I'm sure he would appreciate it so that God's strength and guidance will be with him as he leads our community into the future.   Thank you!
Fr. Anthony