This morning after mass I saw a group of people wandering around Wisdom Circle looking lost. A group of education students from Dakota Wesleyan University in Mitchell started two days of observation in our classrooms. I escorted them to the principal's office, and answered a few questions about our Native American students and programs along the way.
Later, when I checked how they were doing, they were impressed by what they saw in the classrooms. It helps to see the theory you've been learning about in college put into practice in a real and practical way.
The Honor Roll and Perfect Attendance awards for the first quarter were announced at the end of the school day. Students sat on the floor of the school gym and those so honored proudly came forward as their name was called to receive a certificate. They also got to choose from some attractive Native  American-themed notebooks and bookmarks.
We try not to be guilty of grade inflation, but did have FIVE students who earned all A's! Those who continue with good grades, and those who can bring up their semester grades to all B's and A's will get to attend a fun and special banquet in January. Even without special rewards, our teachers are encouraging each student to work hard at achieving their potential.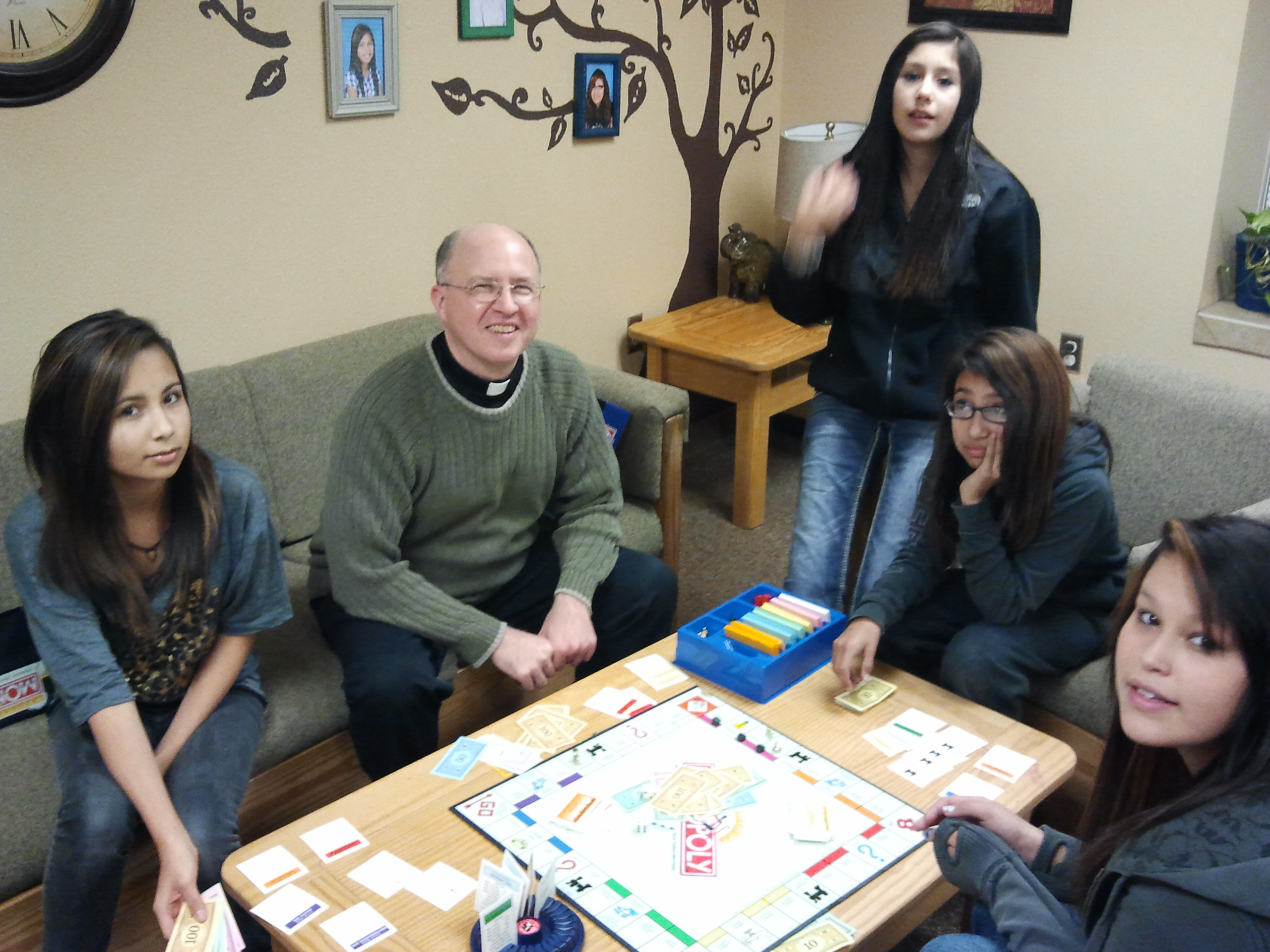 Last night I stopped by Pinger Home (6th– 8th grade girls) for a visit and stayed for supper. The home won a Monopoly game from the Halloween decorating contest and Calista asked if anyone wanted to play. I'm a capitalist baron from way back, and soon was collecting big money from my railroads. There were lots of rules that students didn't understand, especially having to do with mortgaging property or the 10% tax on the space just past GO, so we turned it into a fun math lesson. The game ended in a four-way tie as we ran out of time and the girls had to go to their Wednesday night enrichment class. Ironically, the theme the 6th-8th grade community is covering this month is money management!!!
Winter months make for a quieter season in our Akta Lakota Museum, so we chose this time to start the demolition of the old bathrooms and about a third of the display space to make room for some new presentations. After checking out the work, I stopped to see how our receptionist was doing in her new space. She was on the phone with a donor so I decided to check out how the new archive and collection storage facility looked now that we've moved everything into that area.
As soon as I opened the door the alarms went off with a loud siren! It took Vicki and I a while to figure out how to disarm the system and, by then, we'd attracted plenty of attention. At least we know the security system works!
About two weeks ago we sent out our Christmas appeal, which is the biggest mailing of the year. People have begun generously responding and we had many trays of mail arrive at the post office today. Our departments take turns helping sort mail when we're busy, and it was Tipi Press staff's day to sort. When I saw the email appeal for help sorting, I left my desk and joined them.
I enjoyed the chance to chat and catch up with what everyone is doing. While such a job can tedious, when many people pitch in it goes quickly. And I never complain about lots of mail, but give thanks that people care and want to help us make a difference!
Fourth and fifth grade students from Crow Creek grade school, our neighbors to the north, came to our gym for girls' basketball games. The referees give players that age lots of leeway as they try to learn the basics of the game. They usually let double dribbles slide until it obviously becomes triple dribble. Our St. Joseph's fourth graders played with enthusiasm, but could only get a couple of balls to drop through the hoop and were never in contention. Our fifth graders were more competitive and led the whole game until the fourth quarter, when the Chieftans rallied to win by 4.