The other day while I was cooking I felt a tap on my arm. I looked down and saw Arthur (one of our first graders).
"Right Luisa that humans can't walk on water?" he asked.
"Right!" I responded.  Before I could say anything else he hurried away back into the toy room.
[3 minutes later]
"Luisaaaaaa!!! Tell Uriah to stop lying to me. He keeps saying he can walk on water. Tell him he can't!"
Arthur was back in the kitchen clearly upset that Uriah was making false claims. Uriah trailed in right behind him.
"Yes huh, I can walk on water!"
I asked Uriah why he was lying to Arthur.
"Only Jesus can walk on water, please don't lie to Arthur anymore ok?"
"Nuh uh!" he responded.  "What about lizards?!?!"
That's when it hit me. I was so busy being a logical and reasoning adult who does important adult things that I couldn't think like a child. It never crossed my mind that Uriah might have been playing a game.
"You're right! I'm sorry. Arthur. Uriah is just pretending to be a little lizard."
I knew about basilisk lizards, but what's striking is that little Uriah learned about them somewhere and did not forget.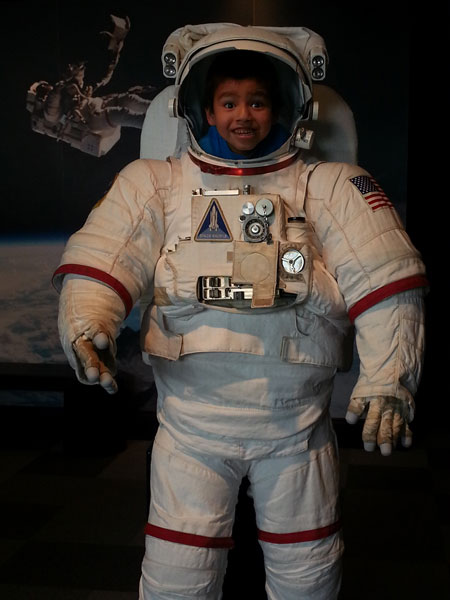 Boys: one moment they are superheroes and another they are basilisk lizards! Their minds are so inquisitive. They inspire me on a daily basis to keep creating, trusting, exploring, believing, learning, and of course: to not turn into a grumpy adult.
This past weekend during our three days off, Jachin and I tagged along with the other set of house parents on a home trip with the boys.  The destination was Sioux Falls, South Dakota, which is only about two hours away.
They took a St. Joseph's mini bus and we drove behind them in our car. We took them to Falls Park, they swam their hearts out at the hotel's pool, and we visited Chuckie Cheese as well as the Washington Pavilion. Needless to say, the boys had a blast.
One of my favorite parts of the trip was going to the Washington Pavilion of Arts and Sciences. There, we visited the Kirby Science Discovery Center, which has more than 100 interactive, hands-on exhibits. I was amazed by how interested and entertained the boys were. They looked like little explorers on a mission!
Here's a video clip from part of their adventure: