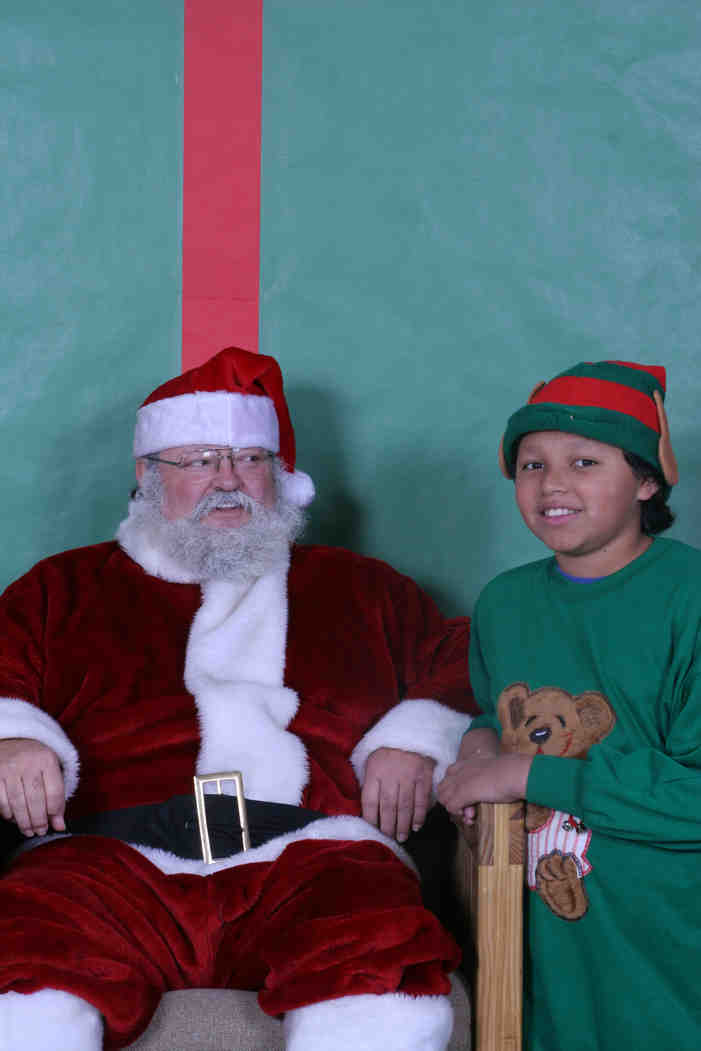 While we haven't had much snow this December, it is definitely beginning to look a lot like Christmas. Today was the day for our Christmas store. Our staff pulls aside many new or like new items that are donated and our Native American youth get a chance to "shop" for presents for their family. Each child has a book of tickets, some good for baby clothes, others for jewelry, toiletries, books and games etc.
Staff and other volunteers help wrap a few of the gifts and Santa makes his appearance to find out who has been naughty and who has been nice.
The High School Native American club held an Indian taco sale outside of our downtown Thrift Store. They are raising money for their annual powwow and other activities. I went downtown for lunch, and the food was all mouth-watering. But while our young entrepreneurs were great cooks, they forgot some of the other essentials, like paper plates to put the tacos on, or even utensils to dish out the food. Luckily our Thrift Store was able to come to the rescue until reinforcements arrived.
Our 7th and 8th grade basketball teams traveled to South Dakota State University in Brookings, South Dakota. They attended a men's and women's college basketball double-header. Hopefully seeing life on a college campus gets a few of our students thinking along those lines.
Tomorrow is the Dancing Dolls and Dudes recital, so I had a special evening mass for the four younger girls homes so they could have extra time to get hair and makeup ready in the morning. The students seemed to enjoy the smaller, more intimate liturgy, and I had plenty of willing volunteers for the help I needed. Appropriately, our closing song was "Lord of the Dance."