LaRayne imaciyapi ksto – hi, my name is LaRayne. I get to live out my passion of sharing Lakota culture in the classroom at St. Joseph's
Indian School by teaching Native American Studies.
Recently, I was able to take 11 students from grades 2-8 to a gathering of our nations at the Lakota Nation Invitational Conference in Rapid City, South Dakota with my co-teacher, Allen, for a statewide Lakota hand games competition.
You might remember reading about LNI and St. Joseph's Knowledge Bowl Team.
You are probably wondering what "hand games" are. I am told there are more than 50 different ways to play, but we played "Lakota" style for this tournament.
Two teams of up to 10 players sit directly across from each other. Each team has four wood pieces (called bones) to hide behind their back. One of the "bones" is marked with a line and is called the male. Each team also has eight sticks, which are used to keep score.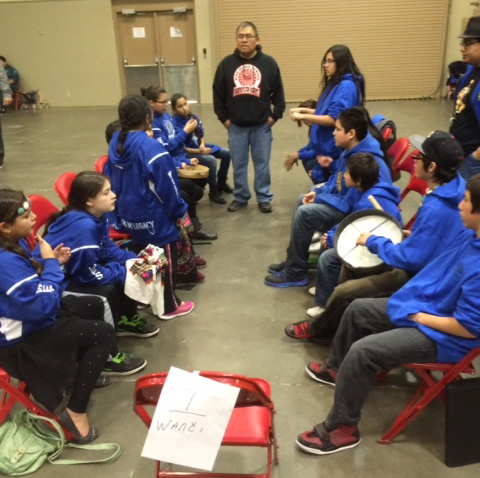 Each team has a turn to have one of their players guess which hand the male bone is in. If they guess correctly, they take the bone from the other team. If they guess incorrectly, the guessing team gives up a stick.
The team hiding the bones uses movement, drumming and singing to distract the guesser on the opposing team and break his or her concentration. The first team to acquire ALL of the sticks is the winner. There are lots of detailed rules in addition to this, but I will keep it simple here.
There were 20 teams in the competition, and we played six games (the last three via the loser's bracket) through the day to come out CHAMPIONS!
But wait, that isn't the end!
We also were asked to be a part of the grand entry during the evening session of the basketball tournament that is held at the same time! We pinched ourselves to make sure we weren't dreaming! After lunch, we stood on the gym floor in front of many of our oyate (nation) and listened to many honorings, speeches and names of student attendees.
Among the honored guests was Shoni Schimmel, the most popular WNBA player (according jersey purchases). The kids thought it was really neat to see her in person.
But wait!
While searching for some cotton candy, Aurelia and I stumbled upon the opportunity to have our picture taken with Shoni Schimmel! We gathered our team and set out to have our photo taken with the WNBA star!
And just because that wasn't enough, the kids were presented with new coats designed for the winning team and 15 seconds of fame by being announced on television during the halftime awards ceremonies.
Needless to say, our students are more interested in hand games than ever!
Pilamaya – thank you,
LaRayne