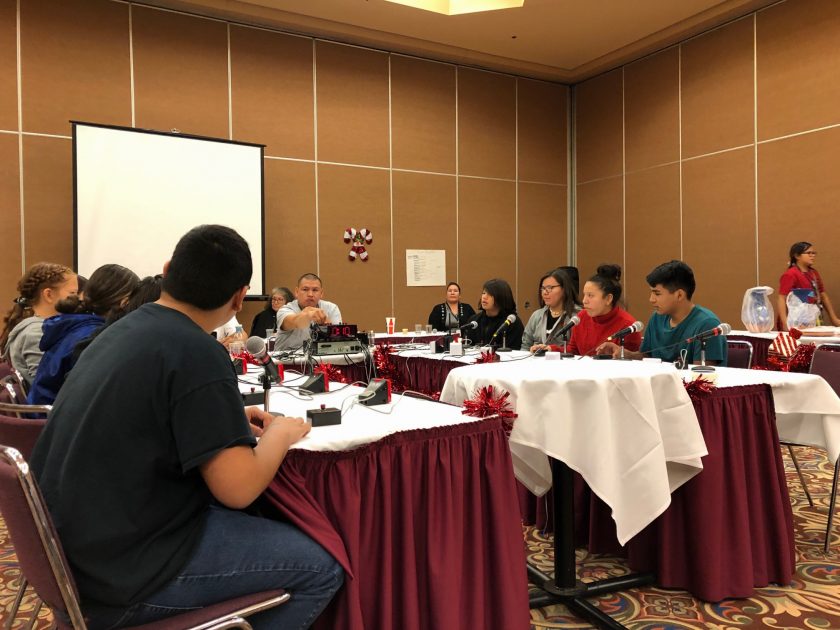 Native Americans from across the Midwest gather to compete and represent themselves, their families and their schools every year at the Lakota Nation Invitational.
It takes place in Rapid City, S.D. – about 220 miles west from St. Joseph's Indian School in Chamberlain. St. Joseph's participates every year in varying categories such as archery, hand games and the Lakota Language Bowl.
This year, for the first time ever, students participated in the vocabulary section of the Lakota Language Bowl – putting four students and their knowledge to the test.
On the day of the vocabulary competition, students felt some nerves, but were excited about the opportunity to compete.
"I am nervous but I am happy to be on this team," said Mariah, a St. Joseph's eighth grade student. "I am glad I get to be here … If it wasn't for my courage and my efforts I wouldn't be here."
One of the team's leaders, LaRayne, who is also the Native American Studies teacher at St. Joseph's, said our school's motto for the year, Hó Waŋná Wóglaka – Speak Your Voice Now – was illustrated during the competition.
"Our philosophy is we need to use the Lakota we know and use it now to get comfortable with it so it will continue on into the future," said LaRayne.
The kids had a packet of words to study, similar to a spelling bee packet. Teachers studied with the students, but students took primary ownership of their efforts. Words were from the categories of family, school terms, colors, weather, animals and many more.
During the competition, our students found themselves tied, 9-9, with their opponent. It was a buzzer-beater ending in favor of their competitor, but we are still very proud of our students.
"It was a great experience to see our students competing at this level. They represented our school well and they are ready and willing to return next year with experience under their belts," said LaRayne.
Other highlights from LNI:
St. Joseph's Knowledge Bowl Team placed Fourth
Nine students participated in archery. Andy placed 2nd in the high school boys division and Lilly made it to the top eight in the high school girls division!
Pilamaya – thank you – for supporting opportunities like this at St. Joseph's Indian School.