Good day from St. Joseph's Indian School.
I thought I'd write about a few odds-and-ends of what has been happening here on campus and in the local community.
FISHING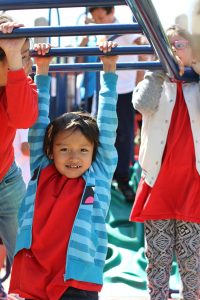 Last Friday, I was driving back to campus and came across one of our local motels that had their sign up saying "No Vacancy."  Since the weather was a bit foggy and cool, I was wondering why they were already full.  As the day progressed, the weather improved and the fishermen showed up in droves.  It seems there is something in the air when it is going to be good fishing weather and everyone just shows up!  The local stores and motels really like having extra guests in the neighborhood.
 SPRING SOBRIETY CELEBRATION
This Friday is the end of the t-shirt designing contest for our upcoming Sobriety Walk.  Any student can submit a design. The shirt designs must be promoting the fact that there are better choices than drugs and alcohol.
Once submitted, the judges select the winning shirt design. After being printed on over 200 t-shirts, the kids don the new design for our Spring Sobriety Celebration!  On the walk, all the students divide into four groups and walk through Chamberlain to raise awareness.
Prior to the walk, the students listen to a guest speaker who may share a personal experience of struggling with alcohol or who shares valuable information with the students regarding the negative impact drugs and alcohol can have.
Once the walk is over, the students have supper together in the dining room.
 GYMNASTICS PRESENTATION
I had the chance to attend a gymnastics presentation on Tuesday. The presentation highlighted nearly 80 students from the Chamberlain-Oacoma area who had been taking part in a gymnastics camp offered by the head gymnastics coach of the Chamberlain High School gymnastics team and her team members.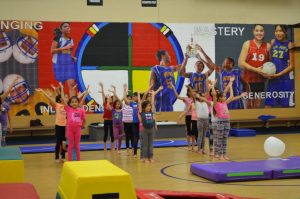 They offered an eight-class camp over a two-week period for two hours each session.  St. Joseph's had 12 3rd to 6th graders who participated!  On Tuesday, they presented a demonstration showing what they had learned regarding tumbles, vaults and bars.  Since the Chamberlain High School gymnastics team has a great reputation around the state of South Dakota, we hope that this opportunity plants a seed in the young minds of the girls in our care.
 ACALYMPICS
Our Acalympic team recently attended a tournament of more than 15 teams down in White River, South Dakota.  Our team scored 240 points, which was one of their highest scores this season.  We did not win, but we did not lose, either!  Once the contest begins, a representative from a different school is the mentor for each school.  The person assigned to St. Joseph's made some nice comments as to how well they did and how they tried to talk over the answers and not just rely on one or two team members.  The team is looking forward to their next opportunity to compete.
WAX MUSEUM
Today, our 3rd graders are offering a wax museum experience.  Each student has done their research on a famous person and has prepared a board and a short speech. After dressing like the person, they will be 'frozen' in the Assembly Room and will 'come to life' when a spectator pushes their talk button. After their short speech, the student will re-freeze until their button is pushed by someone else.
Some of the people our students have chosen to represent are Rosa Parks, Pocahontas, Harriet Tubman, Ruby Bridges, Sally Ride and George Washington. We look forward to the wax museum this afternoon!
 POWWOW
A brochure for our upcoming 41st Annual Powwow, scheduled for September 16, 2017, recently came across my desk filled with information about the weekend's festivities.
Please visit www.stjo.org/powwow for your own information about this year's powwow! If you'd rather speak to a staff member, call us toll-free at 1-800-584-9200. I hope you will be able to be with us in September.
Please know that we keep you in our prayers as our way of saying pilamaya—thank you—for your generosity and support of St. Joseph's Indian School. May God's blessings continue to be with you.
Fr. Anthony Kluckman, SCJ
Chaplain