As we were driving back onto St. Joseph's Indian School's campus from Denver Monday afternoon, we saw a girl in pajamas going into the Benedictine Homes. Laura remarked that she must have spent the day at the health care center. Then we saw the rest of the procession from school … also wearing pajamas!
It was the kick off to Red Ribbon Week – our annual celebration with the message that drugs get in the way of dreams and success, and there are so many fun and healthy alternatives. Monday the students were encouraged to wear pajamas to school – follow your dreams . . . don't do drugs.
Tuesday, bright red ribbons tied around many trees on campus got everyone's attention.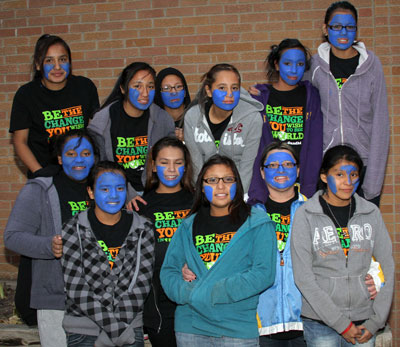 On Wednesday, the entire school had matching shirts, with the inspiring Gandhi quote, "Be the Change You Wish to See in the World." In the evening the homes gathered for Red Ribbon Relays. The potato sack races were run (or hopped) with plastic garbage bags around Wisdom Circle. The problem with those was that scraping against the pavement started to wear holes in the bags, and by the last leg the kids could put their legs through the holes and run! Playing on the theme of "I will say no to drugs until I'm blue in the face" kids painted their faces blue – some completely like Blue Man Group, others with mustaches or creative artwork, but each unique.
Friday played on the theme of patriotism and the upcoming election – " I elect to be drug free, by wearing red white and blue."
This week staff reading group discussed a book of poetry called "Walking the Earth, Touching the Sky." The collection was published by the students at Red Cloud Indian School. Everyone appreciated the beautiful artwork, the cultural information, and found several lines to be profound and thought provoking.
Robyn, one of our Family Service Counselors, shared that with her book on her office end table, students would frequently pick it up and start leafing through it themselves. They were impressed by how peers articulated in words what they too felt. That led them to open up and talk more about their experiences of grief, hurt, and being misunderstood, so that was an immediate benefit of discussing the book. Besides the difficult times some poetry expressed the beauty of nature around us, and the strength of God and spirituality.
Volleyball season wrapped up for the year with a fun match Tuesday night between the eighth grade girls and our staff. The adults got to be kids again, with wild costumes and Halloween makeup. I noticed that whenever our staff started pulling too far ahead, their serve suspiciously failed them and control of the ball went back to the students.  We laughed at the trick shots and fun antics to give the kids more chances, but after two overtime games with many ties and rallies the staff prevailed.
I was showing a visitor from Germany around St. Joseph's Indian School's campus. When she heard how far away our visitor had come from, one of our first graders asked, "Have you ever been to White Lake?" (a small town of about 400 a few miles from Chamberlain).
"That's where I was in foster care before I came to St. Joseph's."
Our visitor remarked that there is such a contradiction between how so many of the children seem normal and well adjusted, yet realizing that it is often sad circumstance that brought them here. The younger students talk more freely about life's difficulties than our older ones, but we encourage all to work through life's hardships.
I stopped at the museum to wish Vickie a happy birthday. Perhaps a third of our museum has been put into storage preparing for the next phase of work, and the space looks so empty. But in a few months we'll be having some great new updates. We are still open and have a good number of visitors from hunters in the area for pheasant season.
Tonight we held FAST (Families and Students together) graduation. FAST has helped strengthen ties between St. Joseph and the families, and hopefully strengthened the relationship between students and their parents/guardians. One parent shared,
"This program brought me and my kids closer than ever."