Every Tuesday for the next few months, we will be highlighting one of our 20 homes on St. Joseph's campus.

Here at St. Joseph's, we provide nationally-accredited home-away-from-homes for Native American children in grades one through twelve.

There are no dorms at St. Joseph's. Children live in one of our campus homes with two specially-trained houseparents. They live and play together as any family would. The boys and girls learn life skills and enjoy spending time with their 'St. Joseph's family'.
In 2015, St. Joseph's began our High School Senior Home program. Hogebach, our senior home, provides opportunities for current high school seniors to learn the skills and responsibilities they will need to be successful after graduation.
Nancy, Al, Melissa and Aaron are St. Joseph's Senior Advisors.
Nancy and Al have been houseparents at St. Joseph's for four years. This year is extra special since they have been with the four senior girls since their freshman year! They have enjoyed getting to know both the girls and boys even more this year.
Prior to coming to St. Joseph's, Nancy and Al owned and operated their own business in the Chamberlain community for 40 years! Since houseparenting has been something Al has always wanted to do, they applied to St. Joseph's after retirement.
As Nancy explains, "we have always loved whatever we have done, but being houseparents to these young adults has been especially rewarding. Our young people work hard to prepare themselves for life after St. Joe's. They work on their life skills- learning how to budget, plan meals, shop and cook. We cover medical information, apartment seeking, financial planning, insurances, and so many other topics to help them as they set out on their own.
Seeing their growth and achievements day-by-day, and knowing that we have played a part in their lives is amazing. Our students will always hold a special place in our hearts. We are so proud of their hard work and their achievements!"
Enjoy this blog written by our senior students and their advisors!
____________________________________________
This is the first year that the St. Joseph's Indian School has had a Senior Home for both young ladies and young men under the same roof.  There is a separate wing for each gender with secure doors.
We all enjoy time in the common areas, which include the kitchen, dining room, and a TV room as well as a laundry.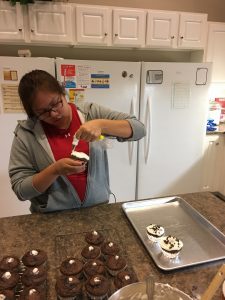 Our young adults are working on their meal planning, budgeting, and meal preparation skills.  They are doing very well in these areas and have recently progressed to the next step of budgeting and meal preparation!
There are also Life Skills lessons, which are taught to the students as a group.  These include but are not limited to: Health, Financial, Education, and Housing.
Some of the favorite activities for the students in our home are bowling, archery, cheerleading, oral interp, drama, basketball, and watching movies.  Some of our seniors are also active in the Science Club, Tech Club, and Native American Club at Chamberlain High School.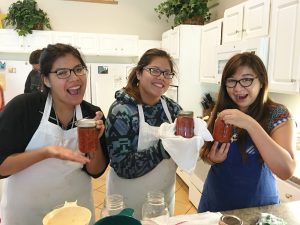 On weekends, our students enjoy relaxing (sleeping in a little later), baking, learning to can (preserve), and going to movies at the local theatre.
Our home has several favorite foods.  They include: spaghetti, broccoli cheese soup, pumpkin bars and pecan pie.  We actually haven't found too much that they don't enjoy!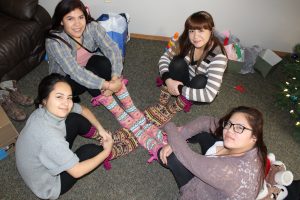 Because we are a new, blended home, our traditions are just emerging.  One of the favorites have been the "You Are Special" Red Plate used for birthdays.  The birthday person has their meal served to them on this plate and then they sign and date the plate.  The houseparents also find a Bible verse in the Bible that is specially selected for each student.  This verse is highlighted for them and their name and birthday are noted.  This will continue to be a special memory of all the students the house parents have shared the home with!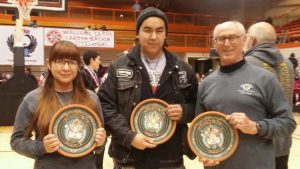 Another tradition the students enjoy is taking part in the group meal in the evenings and Sunday brunch after Mass. It is a great time to share conversation and discuss upcoming event and schedules.
As our students hone their cooking skills throughout the year, a cookbook is compiled with their favorite recipes and pictures.  This cookbook will be printed and each of the graduating seniors will receive one as a gift.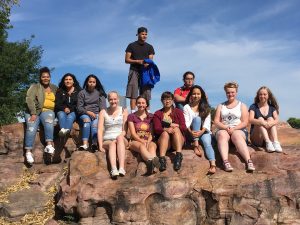 Hosting and sharing time with the German Exchange Students is another favorite.  The guests are with the senior home for approximately 2 weeks in the fall, spending time in the home, eating meals together, touring the area, and usually enjoying a fun day trip to Sioux Falls to see some sights and do some "American" shopping.  Some of our students take time to visit Germany the previous June each year, so this is always a fun time!
Stay tuned… we look forward to introducing the Cyr Home next Tuesday!