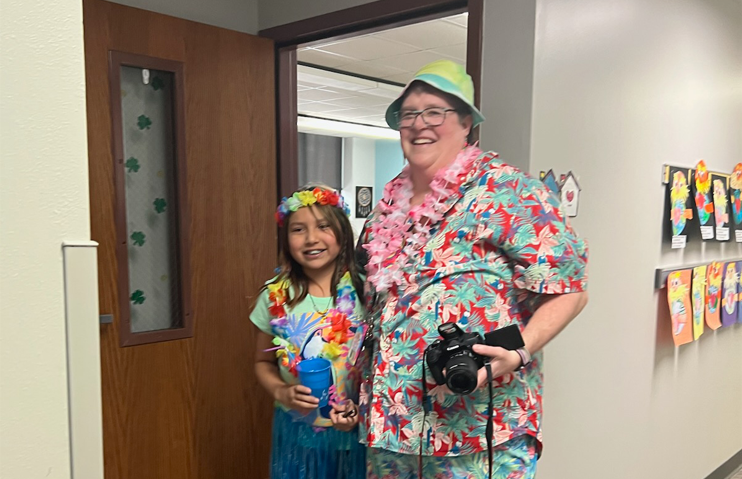 Students at St. Joseph's Indian School celebrated what likely everyone in the area has been thinking – "I Hate Winter Day."
Students slurped red and blue slushies and munched on popcorn while a team of five judges viewed beach home projects constructed for the day. Categories were first-third grade, fourth-sixth grade and seventh-eighth grade.
William, a student in Annie's second grade class, offered the judges a tour of his class' model home, filled with a pipe-cleaner sunbather relaxing outside.
Their home was a close second to first-place winning "The Beach Party," made by Jessamy's second grade class. Wyatt, Micah and Aaliyah pointed out the unique features of their home, where a beachfront wedding ceremony was taking place under a decorative wedding canopy. The girls further added to the experience with a hula demonstration.
Brock's fifth-grade boys took home first in the fourth-sixth-grade division. A smart-looking house on stilts stood proud next to a palm tree made of straws and silk flowers.
The competition was tight, and Steve's fourth grade class took second with a very creative entry described by student Bresayus. She escorted the judges around a beach house surrounded by natural sand, protected by canons and fitted with an indoor throne — all basking beneath a golden sun.
"My favorite part of today is the food and decorating," she explained.
The seventh-eighth grade division was the most competitive, ending in a three-way tie for first place.
Linea's seventh grade had a SpongeBob-inspired pineapple castle under the sea where Gary the Snail and Plankton basked in the sun. The home was made entirely of brightly colored playdough.
Matt's eighth grade class entered the largest home in the competition, a place complete with a tropical island laden with treasure and surrounded by pirates from a large sailing vessel.
Sarah's eighth grade created a beach scene with a popsicle picnic table and dock. A hot-air balloon with a coffee-filter basket floated above monkeys diving from the pier and sunbathing on a scallop-shell chaise.
Guest judge, six-year-old Logan, a staff member's son, summed up the excitement as he offered every model beach house a score of "perfect five."
To learn more about the great things happening at St. Joe's, visit www.stjo.org or follow us on Facebook at www.stjo.org/facebook.