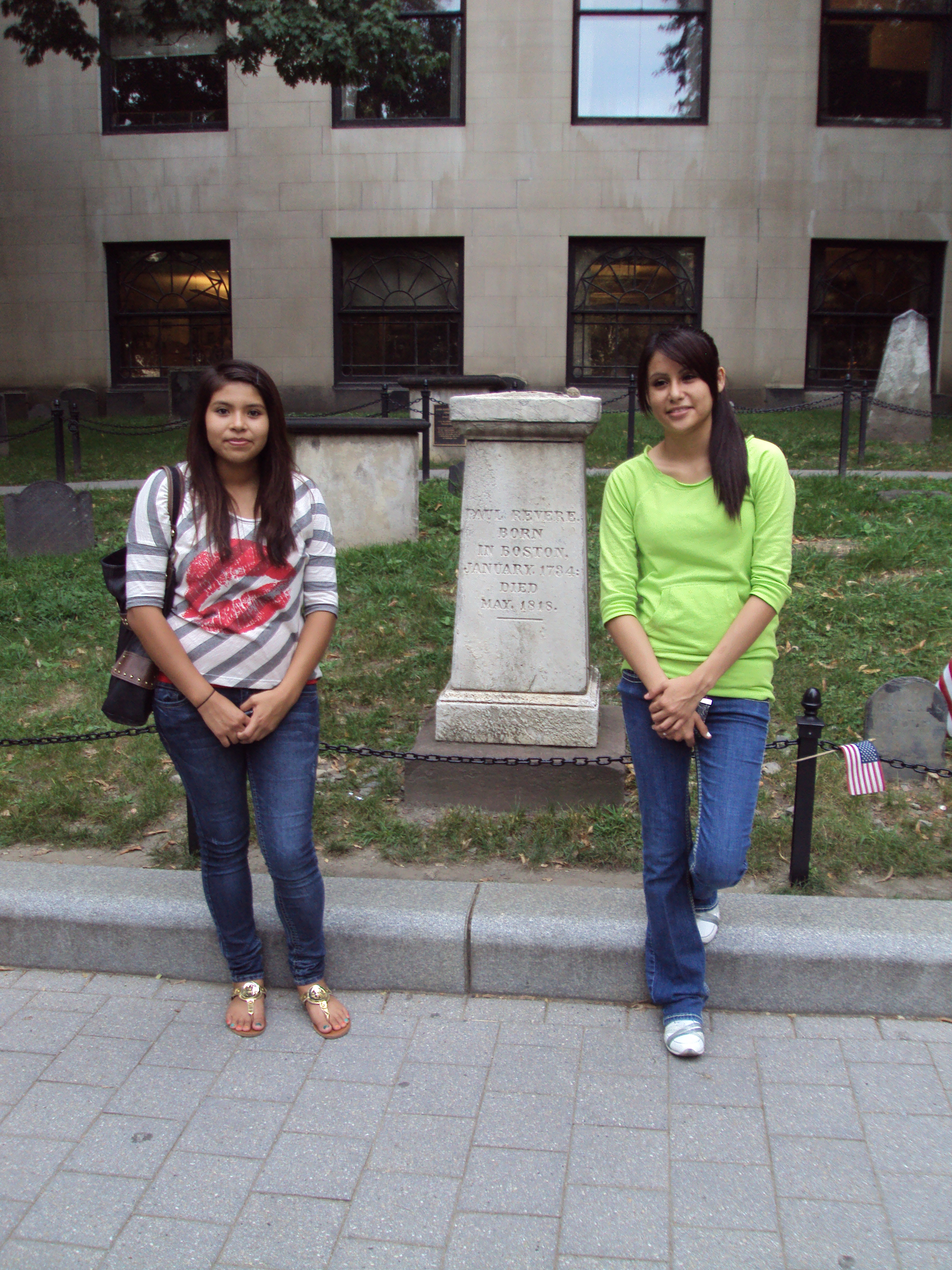 Last night we returned from donor appreciation luncheons in Boston, Massachusetts. Amber, one of our high school students, had never flown before and thought the experience awesome. She and Michelle spoke before 70 guests on Saturday and 60 guests on Sunday, telling about their time at St. Joseph's and answering questions about life on St. Joseph's campus and in their home communities. I admire our students' ability to overcome their fear of speaking to a crowd, and realize that people are very interested in their story. Our donors asked many great questions to find out more about our school and programs.
One of our guests was a young Native American woman I knew from previous parish work. She didn't attend St. Joseph's but is Lakota and from our area. She just moved to Cambridge in July to start a graduate program at Harvard's School of Education and Leadership. Meeting people like her gives a good example of hope that our students may one day follow.
One woman we met is a member of our Tiyospaye Club, and has faithfully donated $10 a month for many years. She said,
"I am on a fixed income and can only give a little, but your staff makes me feel so special. I wonder how you treat your large donors?"
I was heartened to hear her comments, since we do try to treat everyone with care and dignity. I realize that it's folks like her who make small, sacrificial gifts that make such a difference in what we are able to do.
We haven't had many famous donors over the years (though oral tradition here does say John Wayne and Elvis each sent us a little something years ago), but some folks do share a famous name. On Sunday I met one of our friends named James Brown, obviously not the Godfather of Soul who passed away a few years ago. James enthusiastically talked about coming out for our powwow. I encouraged him,
"And when you do, I want to see your best dance moves on the powwow grounds."

"Of course – my name's James Brown isn't it?" he quipped back.
Does anyone in your family share a famous name??
After we arrived on Friday we bought our MTA passes and started exploring the city. One of my favorite folk songs my Uncle Mickey sang to us growing up was the Kingston Trio's MTA, and I was tickled to see that the passes we bought to navigate the city were called "Charlie Cards."
The students took in so many sights as we walked the Freedom Trail and toured historic old graveyards. We shopped for souvenirs at Quincy Market and pondered the speeches that once echoed in Faneuil Hall. We found a colorful Farmer's Market and shared a bag of fresh cherries as we walked the harbor and gazed at tall ships, sailboats, ferries and tankers.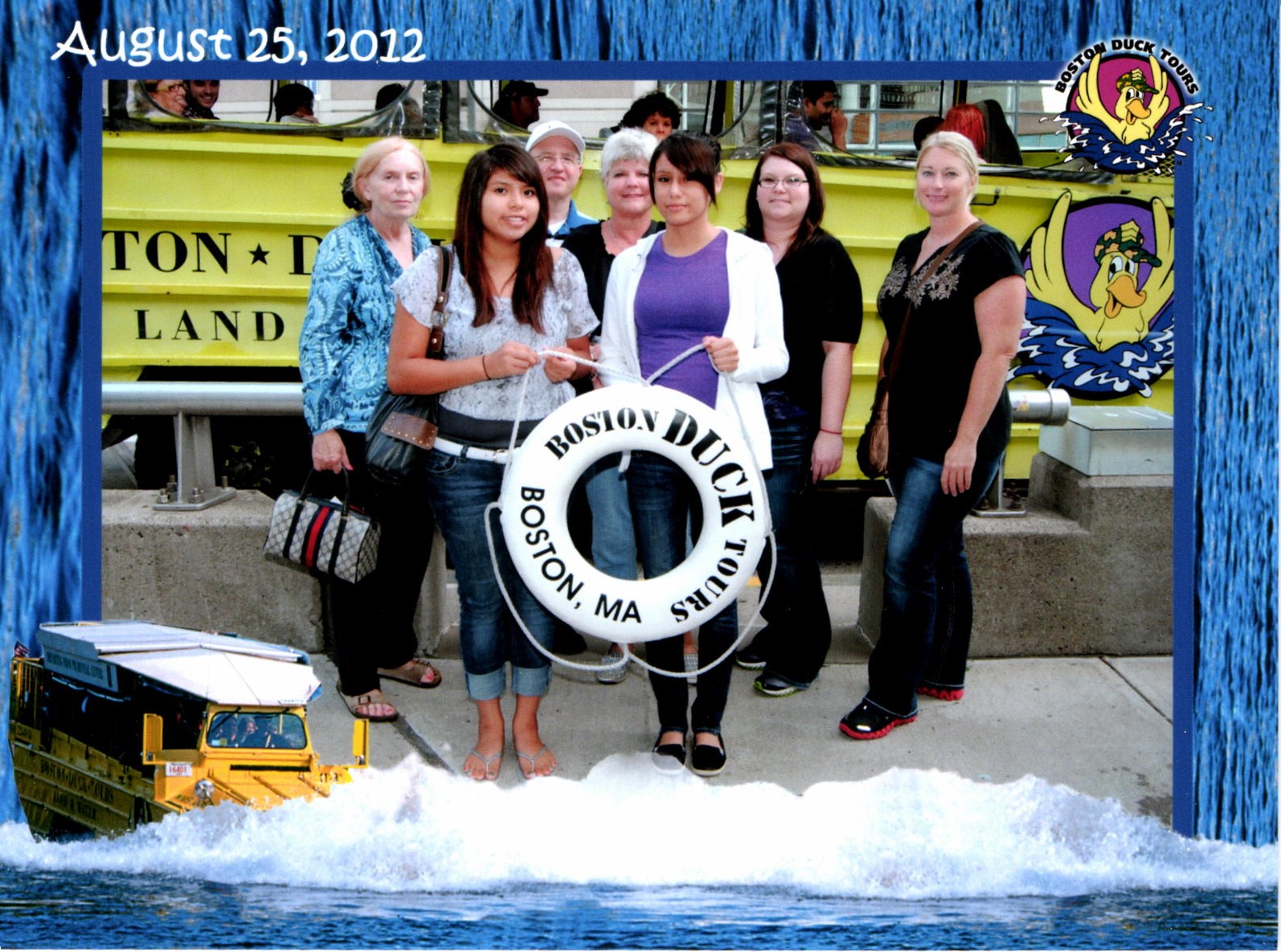 After the Saturday luncheons, we went to church at St. Francis Chapel, which is right in the middle of a busy mall – a new and unique experience for those of us from such a rural state. Then Theresa, one of our donors, treated us to tickets on the Ducks, the amphibious army vehicles that drove us along the streets and plunged us into the Charles River for all sorts of different views. The guide was lively and fun, with lots of banter and corny jokes. History can entertain as well as educate.
Getting a chance to boat onto the ocean was the one event on the top of Amber and Michelle's dream list, so Sunday evening we joined a whale watch sponsored by the New England Aquarium. We saw both humpback and Minke whales, some within 50 yards of our ship. Michelle and Amber had a great spot on the front of the bow and delighted in the breeze whipping through their hair as we motored out to sea. We even saw one breech in the distance, where the whale came all the way out of the water. We had some great looks at some of God's largest and most magnificent creatures.
Coming back onto campus today, I spent a good deal of time with the 3 M's (meetings, mail and messages). But I did make it over to school at the end of the day.
The third graders are reading "Sarah Plain and Tall." As part of vocabulary building and understanding, they were trying to learn about the Flounder and Sea Bass that she was casting for. When the teacher pulled up images from the internet on the smart board, I shared about the whales we had seen.
The third graders were amazed that something living (not like the dinosaurs of old) could still be as big as two classrooms. We also did a little geography lesson as they reviewed what states we had to cross to get to the East coast, and where the oceans are.
Junior high study hall students were working on reading and math. I quizzed students on vocabulary words, and encountered a couple of scientific words that I myself had never heard of, or have surely forgotten in those years since my classes on nuclei.
Sixteen of our 48 high school students hit the tutor's office last night. One of the rules that students complain about the most is having to turn in their cell phones before they retired to their rooms. Now the rule is that they can keep their cell phones as long as their grades are good and they have fewer than three missing assignments. I overheard students say their goal is to keep the phone the whole year by staying on top of their work from the beginning, which was one reason for the rush to the learning center.
The high school students have the Rec Center to themselves from 8 – 9 p.m., and I joined in playing basketball. I don't run or jump so well any more, and as I age I'm better at assists than as a scoring threat. But just to keep the defense honest I will drive and put up a shot every now and again. When I hit a layup one of the houseparents chided 6 foot 3 inch Cody,
"You should have swatted it away."

"I'm not sure if I'm even allowed to do that" grinned Cody.
I think the younger crowd takes it a little easy on me. I worked up a good sweat and hopefully some camaraderie that builds trust with students down the road.