Tuesday, July 27, 2010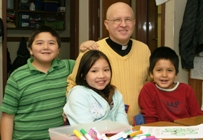 Today was another office day. Besides meetings, visits and phone calls, there's a big chunk of time as an administrator  taken up with reading.
Our high school staff sent me the student guidelines they've been working on to review. The guidelines cover topics such as:
study expectations,
student bill of rights,
curfews,
allowance and
drug and alcohol policy.
I only see four changes in the 40 page document;  staff does a thorough job each year of reviewing our policies and updating and changing where necessary. I appreciate the efforts of our team who work with the guidelines and suggest improvements for our work here at St. Joseph's.
The auditors have been in the office wrapping up the fiscal year, and our preliminary reports are in. Overall, we were blessed even during these hard economic times. We spent less than we budgeted, and received more than our expenses. That enables us to put money aside for a rainy day … and continue our renovations. Besides the bottom line, each number in a budget report can indicate areas that are on target or need looking at. I'm grateful staff here are conscientious about staying within their own budget.
For our continuing education, our Child Services Team is recommending we read the book No Such Thing as a Bad Kid by Charlie Appelstein. Some of our students come with tough issues to deal with in their lives. While most days it's easier to love them; some days can be very trying. The author gives many practical suggestions about what to say and do when young people act out. If we can stop from overreacting, those events can lead to greater dialogue and get at the root of what might be troubling a child. We want to stop bad behaviors, while nurturing what the child needs in the long run.