This morning our high school staff hosted a farewell breakfast in the Hogebach Home for Shana, who has directed the High School Program for the past five years. Her husband got a promotion that moved the family to a different part of the state. In her time as director here, she and her staff found ways to increase our student GPA and retention rates, and see more go on to college. We plan to build on those successes and continue developing the programs and ideas she implemented. All the best to you in your new endeavors Shana!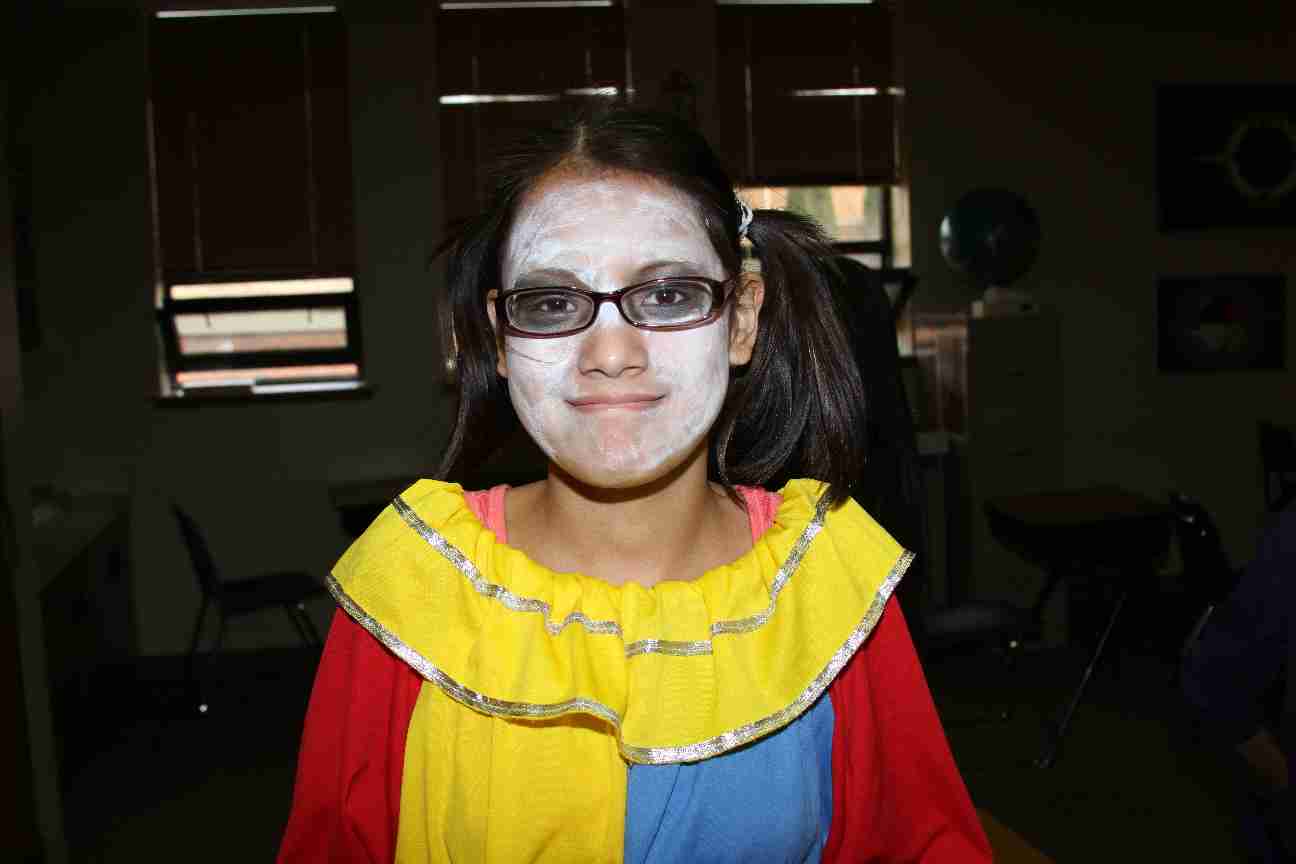 Halloween is one of the most exciting days to be a kid, especially when you get to dress up in costume all day. I toured the school and previewed the attire our Lakota students picked out for this whimsical holiday. Several of the teachers and staff also got into the spirit of the day and wore colorful and creative outfits, including Kathleen our principal, whose face was painted to make her look like a cat. After the initial giggles died down, everyone got down to work, and the quizzes, experiments and reading went on as normal.
There was no study hall as teachers went easy on tonight's homework, so classes could dismiss a half hour early. Students put the finishing touches on their costumes and grabbed a bag for trick or treating. My office was one of several stops around campus. Those of us who work in central offices coordinate treats with our dining hall so we have some variety, and so the treats are fun but have some nutritional value. I passed out fruit roll ups. I wore a Fred Flintstone outfit, and with reruns of the classics, about half the kids knew who I was. The other half were fascinated by the big feet that came along with the costume.
We have two medical students from the University of South Dakota spending a few days on St. Joseph's Indian School's campus for a cross cultural experience. We put them to work right away lining up children for the costume contest. We gathered in the Rec Center where the students were split into categories of funniest, scariest and most creative according to each age group of homes. I wasn't one of the judges this year, but one of my favorites was Bryante, a first grader dressed like Tinkerbelle. The judges agreed too, and she won first place. My favorite staff ensemble was a Little Mermaid trio, with two of our staff as Ursula and King Triton, and their daughter as Ariel.
Several families took part in the festivities, then checked their child out to take them trick or treating in town. A few of the homes, especially with younger kids, also made some rounds in town, since that's part of the fun and allure of Halloween. At the end of the day, houseparents collect all the candy and treats so our students will snack a little at a time over the next couple of weeks.