Happy Feast of St. Joseph!
The last quarter of school began with an all-school prayer service in the Our Lady of the Sioux Chapel. Each quarter, we recognize individual students who set an example of cooperation and service for classmates to follow. At the end of the year we will select one student from the group to receive the Leo John Dehon Service Award. Fr. Dehon founded the Priests of the Sacred Heart based on the values of justice and love. Today, 21 students came forward to receive a certificate and encouragement for their efforts.
Twice a year, our Parent Advisory Committee meets to give us feedback on how our programs and staff can better respond to our students' needs.  Eight parents/guardians dialogued with our Child Services leadership about several topics:
–          How to handle restrictions and consequences when students misbehave.
–          The goals, highlights and changes we expect from our new strategic plan.
–          The opportunities and temptations about how our students are using technology.
–          Update on our Iye Tokéya Inájiŋ – They stood here at the beginning – Alumni and History center.
–          Creating public service announcements and video spots to help people know about the  programs St. Joseph's has available for families and students.
Speaking of consequences and restriction, when students slip onto the F list in the high school program, a whole set of consequences kicks in to help students focus on school. With missing assignments come the loss of many privileges. One mom joked about how her girls refer to this loss of privileges as being under "house arrest." But, the loss of privileges gets their attention and they know what they need to do to earn more freedoms. Another parent said that her kids may have learned St. Joseph's rules too well – when they come home, they ask, "May I be excused to go to the bathroom?"
Three of the members have served on the committee for 5 years now, and we recognized their contributions by giving them one of our blue fleece St. Joseph's jackets worn by staff.
I went to the doctor for a follow up visit from my recent hospitalization. Everything checked out OK. He told me to keep doing what I've been doing, and try to gradually increase the exercise.
I joined Fisher Home (6th-8th grade boys) for supper. The big topic of conversation was whose favorite teams would win the NCAA basketball tourney. There are no regional college favorites among our students but, like many kids, they tend to get on the bandwagon for winners. I grew up in Indiana and am cheering for the Hoosiers, glad to be back in the mix.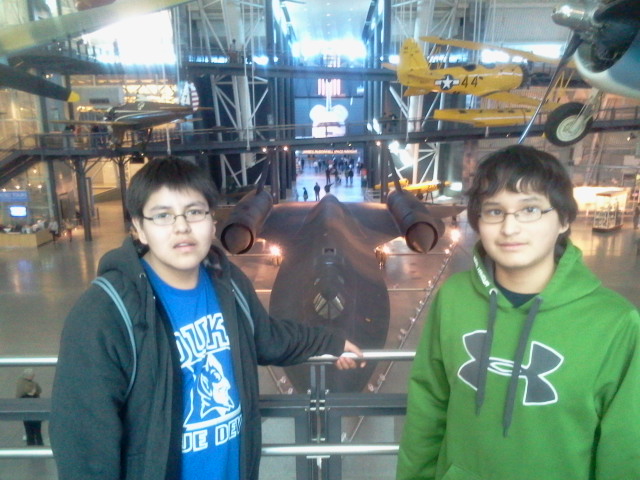 Each spring we have a donor-sponsored trip to Washington DC that allows a few of  our students to experience the Smithsonian's American Indian Museum. Alex, Trey and Gabriel spoke about some of their favorite sights, with the White House on top of the list. It was Gabriel's first visit to a large city, and he couldn't get over the crowds everywhere. The boys got an appreciation of the many different tribes that are represented at the museum,and government and history became more concrete and real for them in what they saw and experienced.