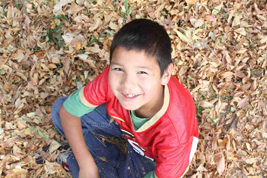 We had lots of fun at our Enrichment Activity on Wednesday!
On a nice early evening here at St. Joseph's after the elections, Mark and I decided to take the kids outside for some fresh, cool air.
In the first session, we had the Perky and Cyr (fourth and fifth grade) boys involved in some flag games. Mark really had the boys moving and trying to avoid getting their flags (or as we called them, tails) pulled off. We played a game with lions and gazelles. The lions really did a number on the gazelles! Much thanks to Teresa, Odis, Lloyd and Joe for their help.
In the second session, the wind picked up and there was a little nip in the air, but it was perfect football weather! The boys from Fisher and Rooney (sixth, seventh and eighth grades) were out to show their football skills.
We had blue vs. yellow teams. It was close all the way to the end, and the clock ran in with a tie. That was only because Daryl kind of got into Trenton's way toward a touchdown and they both hit the ground. Many thanks to Dick and Jan for braving the cool South Dakota breeze.
Next week, we have the Dennis and Afra Homes (first, second and third grade girls) at 6:00 pm and the Pinger and Stevens Homes (sixth, seventh and eighth grade girls) for the 7:15 pm time slot.
Mark and Andy