This weekend the Crow Creek Indian Reservation held their annual fair and wacipi – powwow. I view powwows much like a family reunion. Since I worked in that community before coming to St. Joseph's, I know quite a few folks when I go.
Last night, besides taking in the dancing and ceremony, I enjoyed walking around the arena and visiting with familiar faces and catching up with old friends. I noticed several St. Joseph's students with their families. A few of our St. Joseph's homes also loaded up a mini bus and came for a few hours.
Today I had to drop some items off at the Akta Lakota Museum & Cultural Center. Glancing at the visitors log book, I was tickled by the number of overseas tourists who visited us. The notes told of folks hailing from Japan, Germany, Brazil, the Netherlands and France, besides a great number of different states in the good old USA.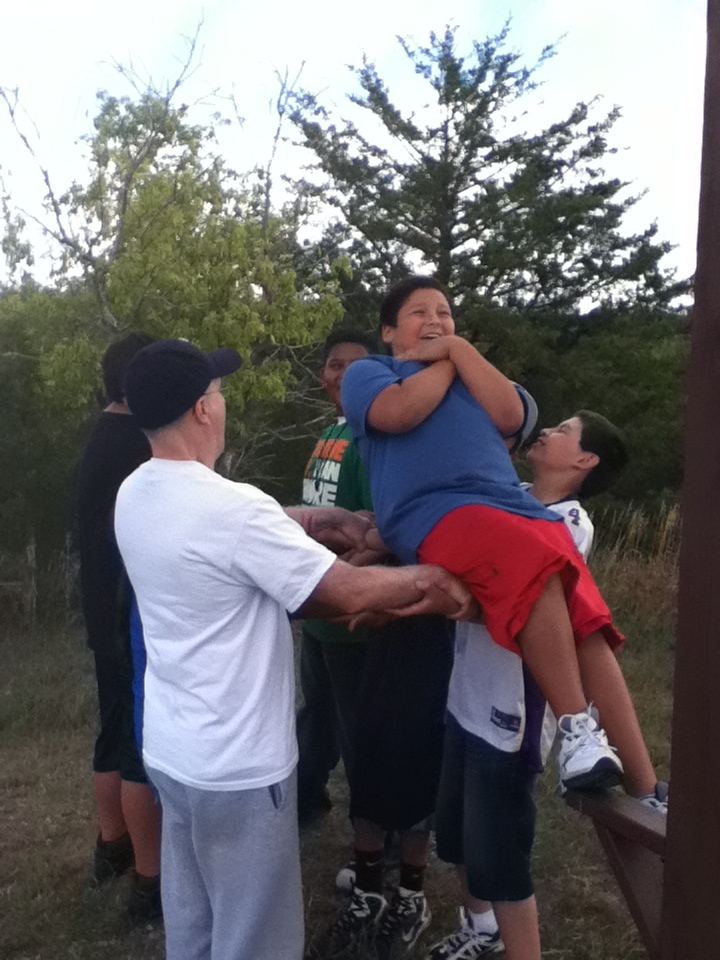 As I walked back to the office on a lovely Saturday afternoon to finish up the weekend homily and prepare for Sunday, I heard laughter coming from atop the hill behind the Dining Hall. I followed the path to the area where we've developed our Project SOAR obstacle course. Mark and Nate were working with a group of boys from Fisher Home (6th-8th grade) at the nylon stringed spider web. The group was trying to help everyone cross from one side to the other, which involved lifting, carrying and passing teammates. The object was to help them learn to work together, and develop needed social and life skills such as cooperation, communication and planning. I even joined them in the next activity – a trust fall – where each of us had to fall backwards from a short ledge into a tangle of arms waiting to catch us.
On the playground, I noticed the Dennis Home girls (1st – 3rd grades) arguing about someone calling another student a cry baby, and hurt feelings escalated until they were mad at each other. One of the third grade girls was upset to start with. She  asked me to pray for her two-year-old cousin, who sadly died in a drug related accident. When our students act out or misbehave, all of our staff are trained not to overlook the possibility that there is a deeper issue or problem that may be upsetting the child. In their young lives, many of these children have know a lot of sadness and difficulty.