Friday, October 8, 2010
Hartford CT – We flew from Sioux Falls, SD to Hartford, CT for this weekend's Donor Appreciation Luncheons. Dominic, one of our seniors in High School, had never flown before, and was quite excited about the experience.
The highlight of the day was visiting the Basketball Hall of Fame in Springfield Massachusetts. One display case celebrated Indiana High School basketball, remembering the Milan Miracle that inspired the movie "Hoosiers". I thought of the day Dad and I stopped by Milan and I heard the story of the underdogs who beat the giants. My favorite personality to remember was former UCLA coach John Wooden. Besides being a winning coach, he taught his players good lessons about life. "Things work out best for those who make the best of the way things turn out," or "failure to prepare is preparing to fail".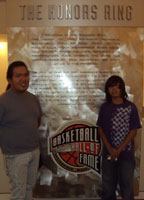 The boys at the Basketball Hall of Fame
The center of the museum contained a court for people to play and reminisce. I even hit a few three pointers. Dean enjoyed the rims that were lowered so he could dunk.
Our chaperones, Steve and Jan, used to live on the outskirts of Hartford, and we drove by their old homestead and let them tell a few stories about their life before they came to St. Joseph's. We finished up the day with supper at a restaurant near a mall, and a chance for the students to look for a few souvenirs to take home as mementos.