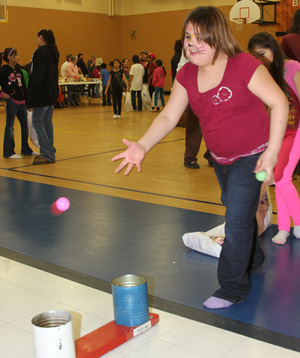 Friday was our Valentine's Sobriety Celebration at St. Joseph's Indian School. The Lakota children in grade school enjoyed a carnival, with about ten different games around the edges of the gym. Older students and a few staff ran a face painting station at center court, and I saw colorful mustaches, cat whiskers and clown faces all around.
Each game required different levels of skill – plastic bowling pins, ring toss and a golf putt. Some were pure luck, like the Fish Pond and the Cake Walk, but the kids had a blast walking around the numbered circle to the music, or casting their rod over the partition in search of treasure. Consolation prizes were penny candies. Each student played until they won up to five small prizes.
Once their card was filled, they made their way to the tables filled with donated toys, games and knick knacks. I noticed some students would pick the first thing that caught their eye, while others were  more discriminating shoppers, and carefully looked everything over before making their selection.
The junior and senior high students held a dance later in the evening. Our dances usually involve many students sitting on the sidelines and only occasionally meeting in the middle. Chris, one of our seniors enlisted  the help of other classmates to serve as the DJ. The students were more willing to get up and show off their dance moves, mostly in groups. "Couples" were more likely to walk around and hold hands rather than dance together. Everyone seemed to enjoy themselves.