Hello everyone! My name is Kelli, Planned Giving Summer Intern at St. Joseph's Indian School.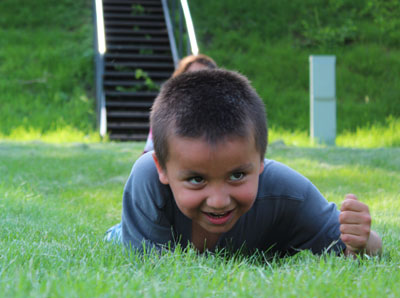 A few days ago, I was able to spend some time with the youth of the Lower Brule Indian Reservation at the St. Joseph's Rising Eagle Day Camp here in Chamberlain, South Dakota. On this particular morning, they were imitating animal movements and practicing summersaults and cartwheels on the football field. Their giggles and smiles made me take a trip down memory lane to two years ago when I was a camp counselor at the St. Joseph's Rising Eagle Day Camp.
Although every day brought many joys and wonderful experiences, one day in particular still stands out in my mind.
On this particular day, one of our St. Joseph's staff was reading a Native American children's story to the kids. While The Rough-Face Girl was being read, nearly all of the children were listening quietly, but one little boy was not following the rules and was being disruptive to everybody else.
Feeling like he may need to burn some energy, I grabbed a plastic bag and told him to follow me outside—we were going to go pick up some trash.
For the first few minutes, the young boy was quite unruly. However, when he saw how much fun he could make the situation, he began to laugh, smile and run around—the first time I had ever seen this young boy so alive and carefree.
His smile and laugh were contagious and I began to get into the game he created out of his own imagination. "Kelli, hold the trash bag really high!" I would hear, so I would hold it above my head and he would aim, shoot, and SCOREEEEEE! A silly celebratory dance and lots of cheering would always follow.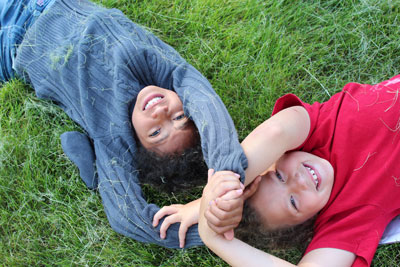 After about 20 minutes or so, I asked the young boy if he would like to go back inside and be on his best behavior.
He replied yes, gave me a huge hug, began to cry, and thanked me for spending time with him because "no one ever spends time with me."
This little boy was my best friend the remainder of the Rising Eagle Day Camp. He was usually one of the first ones on the bus bright and early and one of the last to walk back to his house. He was my right-hand man and was often given certain 'duties' to help me with.
The young boy who had multiple disciplinary problems on his first day never had an issue again.
Thank you for allowing me to pick up trash and spend quality time with young Lakota Sioux children. Although picking up trash is a messy and sometimes stinky job, I am so grateful for this young boy and the opportunity I had to make a little friend that changed my life forever.