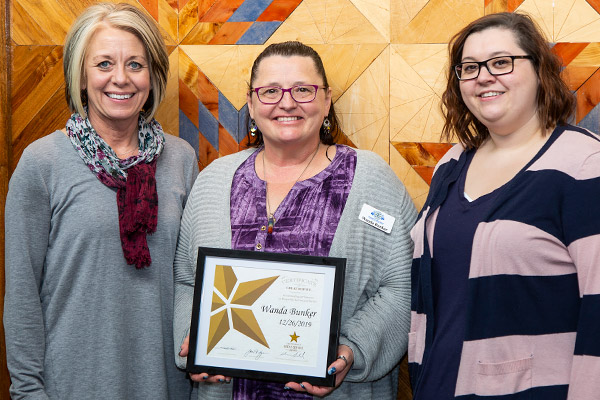 The South Dakota Department of Tourism and the Governor's Tourism Advisory Board recently selected Wanda Bunker, St. Joseph's Indian School Historical Coordinator, as a recipient of the Governor's Great Service Star award. She is recognized for providing outstanding customer service at the Aktá Lakota Museum & Cultural Center in Chamberlain, S.D.
This award is given to individuals who show outstanding performance in hospitality and customer service beyond the expectations of their job description. To receive this award an employee is nominated by a supervisor. Dixie Thompson, Director of the Aktá Lakota Museum, spoke very highly of Wanda and said that she had several supporting comments from visitors that without question qualified Wanda for the nomination.
"Wanda is the key member of our frontline team. In most cases, she is the first person who visitors and donors meet when visiting campus. Many share positive comments about experiencing her pleasant and helpful attitude. She is such a blessing to our organization," said Thompson.
Wanda Bunker started working at St. Joseph's Indian School when she was in high school and later extended her stay to over 26 years when she and her husband decided to be houseparents. When asked about her award, Wanda said, "I love this job, the museum and school, and especially the people with whom I work. I feel totally honored to receive this award."