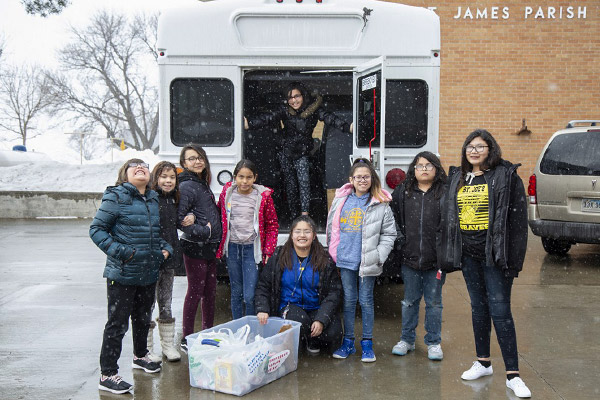 The following reflection was written by Joe, our Director of Mission Integration, about the Catholic Schools Week activities that took place during the last week of January. 
Learn. Serve. Lead. Succeed. That is the national Catholic Schools Week (CSW) theme. Here at St. Joseph's Indian School we believe we should live out this theme not just for one week during the school year, but rather for the rest of our lives. On the campus of St. Joseph's Indian School you will see students living out the Catholic School Week theme every day.
Each day of the week had its own specific theme. Monday's theme was to "learn," and students wore a shirt of the college or university that they either support or would like to attend. This day was a great day to get our kids excited about attending college after their time at St. Joseph's. Also on Monday, students and staff gathered at Our Lady of the Sioux Chapel for a prayer service to kick off CSW. During this prayer service students and staff saw the importance of prayer in our lives. Staff members and teachers received a special prayer book, which will help integrate prayer even more on campus.
Tuesday's theme was to "serve," and the fourth through sixth grade students set up food donation boxes all around campus to help support Chamberlain's local food pantry. Our students are encouraged to serve others not only on campus, but also in the local community. Tuesday also had a showdown between St. Joseph's students and three other SCJ schools in the United States. Six seventh graders competed against these other SCJ schools to see who knows the most about each other's school and Fr. Dehon.
On Wednesday students wrote an essay titled "I Find God…" The idea behind this essay was for our students to think outside of the box. We want our students to be able to see God in everything they do. A poster with the same title "I Find God…" was placed in the school for students and staff to write on showing how each member of the St. Joseph's family finds God in their lives.
Thursday's theme was "Lead." At St. Joseph's we want our students to be proud of who the Great Spirit made them to be. This day was all about leading others to be the best version of themselves. Students were encouraged to wear the school colors of blue and yellow, showing our pride of being a St. Joseph's Indian School student.
Finally, for Friday's theme of "Succeed," students received a name tag sticker that said "Future…" The students were encouraged to write down what they want to be when they grow up. Students were reminded that with the help of donors, and through a great education at St. Joseph's, they can achieve their future goals and to "succeed" in life.
Catholic Schools Week was a busy, yet exciting, week for staff and students at St. Joseph's Indian School. With so much happening on campus, we encouraged our students to take a moment each day and be grateful for everything they have and to take a moment to say a prayer to the Great Spirit thanking him for all the blessings in life.