Good day from St. Joseph's Indian School,
WHEW!!!   The Chamberlain area escaped being the bullseye of a predicted snow storm—we were looking at cold temperatures and 6-10 inches of snow—but what we received was milder than expected. Several area schools released early, basketball games were cancelled and others worried about being able to get to Sioux Falls on Saturday for the state wrestling tournament, but luckily we were spared.
FLAT FRANCIS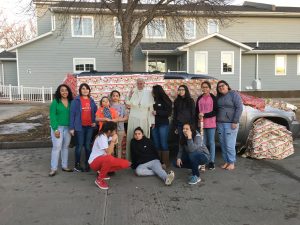 Recently, 'Flat Francis' was borrowed by Rachael and the girls of Stevens and Mathias Homes so he could be part of a prank they pulled on the boys of Rooney and Speyer Homes.  The girls wrapped the boys' suburban car in gift wrap paper.  I think I can see a slight grin on 'Flat Francis's' face in the photo!
DAKOTA OYATE CHALLENGE
Mid-February, our students had the chance to take part in the Dakota Oyate Challenge. Our students took part in the hand games competition and the archery contests.  St. Joseph's hand games team came in 4th out of 17 teams, several of which were high school teams!  Our archery shooters were really able to show off their skills and talents.
In the fourth and fifth grade age group, we had four placers—Chenoa 1st, Julianna 2nd, Brooklyn 4th and Neveah 5th.
In the sixth through eighth grade age group, we had two boys and one girl place—Clayton 1st, Lyle 4th and Diamond 3rd.
For high school boys, St. Joseph's did a clean sweep of the places—Richard 1st, Cameron 2nd, Domonique 3rd and Justin 4th.
Due to the excitement the archery has brought to St. Joseph's campus, our coaches are dreaming about the day where we are able to host tournaments and invite schools to Chamberlain to compete.
VALENTINE'S DAY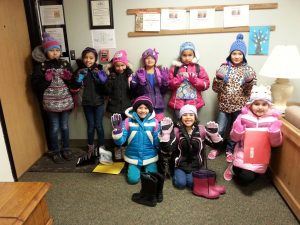 Before Valentine's Day, the girls of the David's Home decorated my door with hearts. On the hearts, they wrote their names and different quotes from Scripture about love. I returned the gesture by buying a box of candy for them to share during their afternoon snack.  When dropping off the treat, the girls were getting ready for school—it was interesting to watch all the activity that takes place in our homes each school day!
I hope February was a good month for you!  As our focus begins to turn to Lent and Easter, may the Lenten Season give you the opportunity to take an honest look at yourself to discern what needs to be let go of, so we can come closer to the Lord and be nurtured by His love and mercy.
Thank you for your continued support of St. Joseph's.  We appreciate your prayers and encouragement.  Please know our students are praying for you.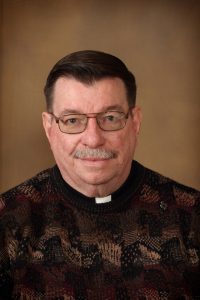 Fr. Anthony Kluckman, SCJ
Chaplain