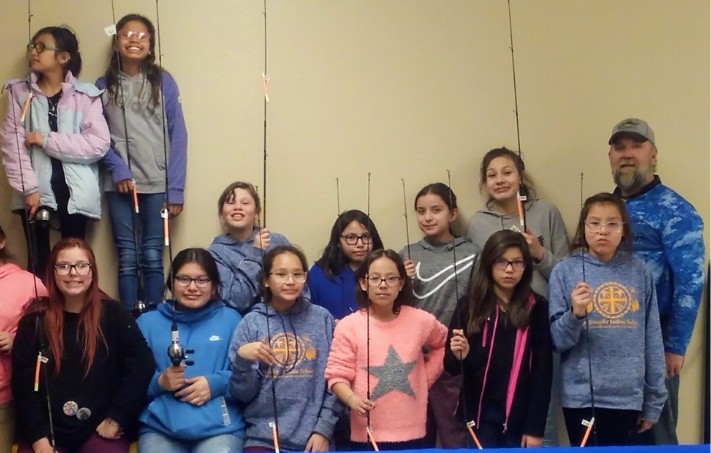 As the old saying goes: "Give a man a fish and he eats for a day. Teach a man to fish and he eats for a lifetime."
But, what happens when you teach a girl to fish? Well, that phrase continues to prove itself true while being packaged together with a whole lot of fun and giggles.
St. Joseph's Indian School girls took part in Cabela's School of Fish, meaning they now have lessons they can take to any lake, stream or river in their future.
The March clinic took place at St. Joseph's campus Rec Center and had 15 fourth through sixth grade girls learning knowledgeable information about fishing, fish species, tackle, equipment, etc. But, it also had hands-on activities, too. The students learned how to tie a fisherman's knot and bait hooks, and also how to properly cast their line.
This is the second time St. Joseph's has played host to the program. Last year, boys took part. This year it was the girls' turn.
And the instructor, Jim, said the girls were awesome!
"Some of the girls mentioned they want to go fishing now and houseparents told me that the kids were very excited after the event. It was all they talked about that night in their homes," said Bryan, St. Joseph's Athletic Director and Rec Coordinator.
The Cabela's School of Fish program covered the supplies, including a fishing pole, tackle box and a snack for each participant. St. Joseph's paid the $50 participation fee per child, thanks to generous donor support to our school.
"It was a fun and worthy event," said Bryan. "We look forward to doing it again next year."
Pilamaya – thank you – to Cabela's for visiting our campus and for supporters who make experiences like this possible.