"Look! I'm a kitty-cat!" exclaimed Darliss, a St. Joseph's Indian School student, as she pointed to her ears.
However, she wasn't pointing to her own, God-given ears, but rather the kitten ears painted on her forehead. The ears were coupled with whiskers stretched across her cheeks and a black nose. The Native American student had just gotten her face painted during the Back-to-School Picnic, hosted by St. Joseph's Indian School, to welcome students and their families back to campus on Sunday, Aug. 13, 2017.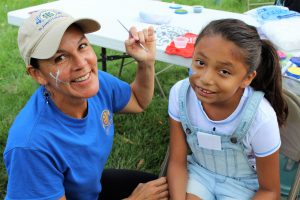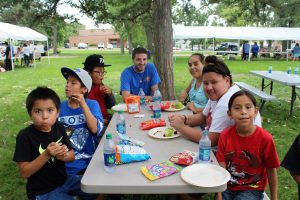 It was just one of the fun activities available during the St. Joseph's Back-to-School Picnic. Over 250 students, family members and staff also enjoyed a crafts table where they made a picture frame and/or drawing book; a rec area with hula-hoops, balls and water balloon games; an area to have family photos taken; and tables where they enjoyed a warm meal of mouth-watering Sloppy Joe sandwiches.
St. Joseph's staff members understand an array of emotions are swirling around inside of students when they are dropped off at school, and that mothers, fathers, grandparents, etc., also can experience similar nerves or anxiety. St. Joseph's is a residential school, so not only are students gearing up for their first day of school, but they are doing so at their home-away-from-home.
The Back-to-School Picnic is just one of the many ways St. Joseph's fosters relationships with its students and their families. The event allows everyone to gather in a comfortable, outdoor setting where staff members can get to know families. In the end, this simple event helps everyone transition into the new school year.
"It's important that events like this take place to help students and families feel welcome," said Danielle, Family Integration coordinator at St. Joseph's. "We want the message to be clear that St. Joseph's wants to work side-by-side and partner with students and families – not be a completely separate unit."
Besides fostering relationships and communication, the annual Back-to-School Picnic addresses one more important thing St. Joseph's cares deeply about: having fun!  It was a theme strongly felt as students moved from station to station. They often expressed their excitement about the upcoming school year.
"I'm so excited to be back to see everyone," said Dorian, an eighth-grade student. "I really like St. Joseph's!"
One student named Jeremy even said he couldn't wait to get back to math class!
"It's my favorite!" he said, while adding that reading comes in at a close second.
As the picnic ended, families dropped off last-minute items with their children before giving just one more goodbye hug. It was a great way to kick-off the school year, which officially started Aug. 14, 2017.