In the second grade, students are accustomed to sharing their crayons or scissors with their classmates on a regular basis. But, recently, some of the smallest of students at St. Joseph's Indian School had the opportunity to give back to some individuals outside of their classrooms in a larger way.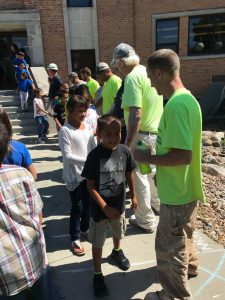 On August 22, students filed outside to greet the construction crew that has been working hard on the completion of the new Health and Family Services Center, and they made sure not to come empty handed. After introducing themselves with a hello and a handshake, the workers were presented with homemade bars and an orange smoothie drink as a way for the Native American students to say "thank you" and show their appreciation.
"Aww, man! These treats look great, kids!" said one of the workers as he grabbed an ooey-gooey peanut butter and chocolate rice crispy treat.
Pam, the Personal Living Skills (PLS) teacher at St. Joseph's, said her second grade students were thrilled to get outside and meet the workers beneath the hard hats.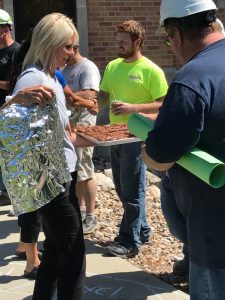 "I am pretty sure they weren't aware of all that goes into making a building — real people doing real things," she said. "It was cool for them to see the men behind the magic."
The gift was also in-line with some of the things the students are learning in the classroom, which include the My Pyramid for Kids. The program teaches children the importance of eating healthy foods and about the nutritional benefits of eating from various food groups.
Although the students didn't get to share the treats with the crew, the young Lakota (Sioux) boys and girls will have the opportunity to make the orange smoothies in their PLS class. But until then, they appeared happy just to be able to give back.
"God loves a cheerful giver," said Pam. "This was a fun way our students could learn to give with a cheerful heart without expecting anything in return."