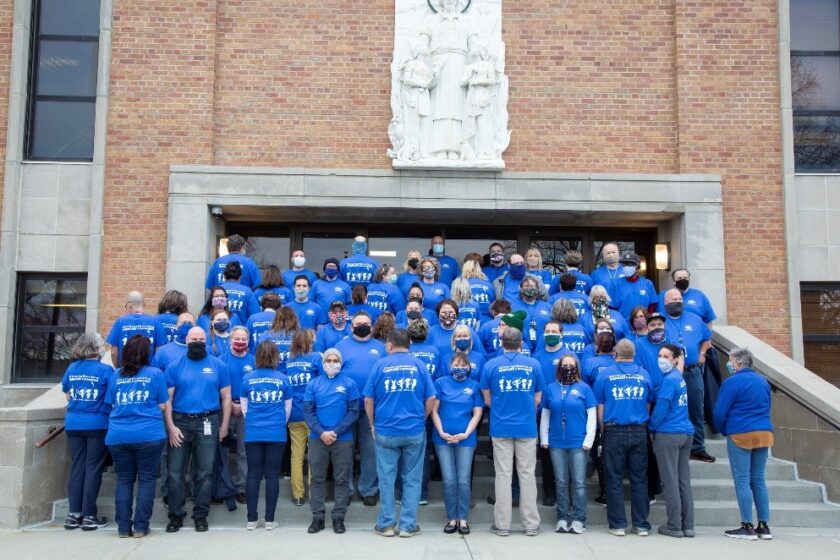 On April 13, 2021, Child Services staff at St. Joseph's Indian School braved the high winds and cold in order to take pictures for Child Abuse Awareness month. Staff wore blue shirts with the motto "Strengthening Families and Communities." Below this were pictures of children playing, with the Lakota words Táku waŋláka čháŋ, tákeya yo/ye — See Something, Say Something.
Since 1983, after efforts from former presidents Carter and Reagan, April has been designated Child Abuse Awareness or Child Abuse Prevention month. Although the month is a good reminder for the public to stay diligent in the fight to end child abuse, St. Joseph's Indian School provides programming all year to keep students safe. Some of these programs are:
Whole Person curriculum is taught in school for all grades, 1-8.
A child protection unit in the homes, grades 1-5.
Healthy Lifestyle learning for sixth graders in their homes.
Family Service Counselors work individually with students who might need assistance in these areas.
St. Joseph's staff are required to take a yearly course that addresses recognizing and responding to child abuse and neglect.
It's important to stay diligent in reporting real or suspected child abuse. Over 1,600 children die each year across the country due to abuse or neglect, while nearly four million referrals are made to Child Protection Services agencies with concerns of abuse and neglect involving more than 6.6 million children.
That's 1,600 deaths too many. That's 1,600 reasons to stand up and become educated to spot these tragedies.
The future remains hopeful, as we do our part at St. Joseph's Indian School. We partner with families and organizations in devotion to the safety of children. We're blessed to do this great work thanks to generous people around the world.