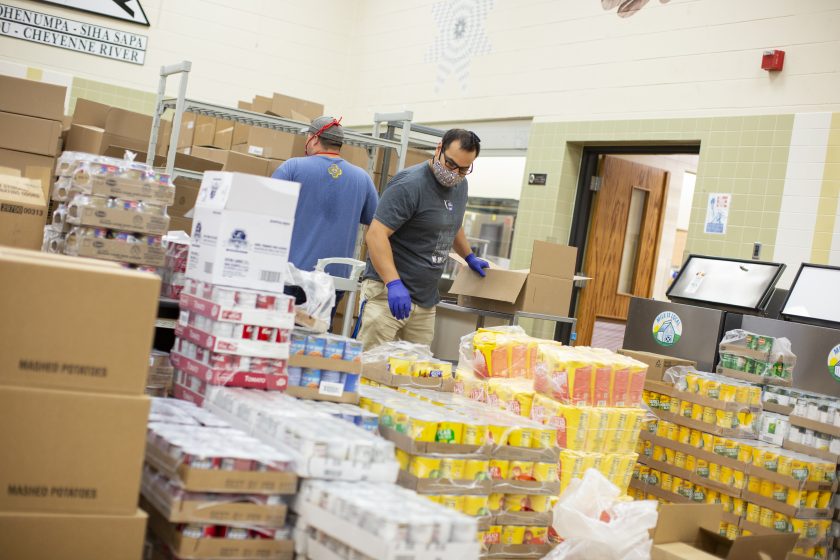 Note: The following story was written by Maija, a Residential Support staff member at St. Joseph's Indian School.
Whether it's around a table or being delivered to those in need, food brings people together. Food can be an expression of culture, a demonstration of love or the glue that gathers friends and family together.
The homes and school doors are closed but our hearts are open. Recently, Jackie and I had the opportunity to deliver food from St. Joseph's Indian School to some of the most in-need people on the Crow Creek Indian Reservation.
This is what we do. This is who we serve. And this is why we do it …
Some of our students live where there is no street sign, no numbers on the residence and no pavement. Those were the hardest to find, but we delivered to everyone on our list and more!
As we made our deliveries, we were able to see former students, our current students and their families (from a safe distance) and it was heartwarming and heartbreaking all at once. We miss being together. Being notorious huggers, it was very difficult not to give a hug or a handshake to those we met and spoke with. Kids and adults expressed their hopes and prayers for the fall. They talked about how they miss the staff, friends and activities at St. Joseph's.
The families were so grateful for the food delivered and encouragement we shared. Food was bringing us together once again but in a very different way.
During our stops, it didn't take long to see a group of kids from diapers to about nine, outside playing. Our minibus with "St. Joseph's Indian School" blazed on the side caught their eyes as we pulled over. When asked if they wanted some milk and food, their eyes lit up and their heads bobbed! The eldest yelled "thank you" as they picked up the boxes we left for them. A father greeted us as we asked his children if they wanted some milk. We could see the smile on his face even though it was covered with a mask and his eyes were full of gratitude as he humbly waited for us to move away from the curb.
This is the stuff that feeds our soul. This is why we work at St. Joseph's. This is why doing what Jesus tells us to do is so important.
If you haven't done so already, I encourage you to reach out to someone in-need and maybe even make a food delivery …
Feed their bellies while you feed your soul. It's definitely worthwhile.